PC port of Angry Birds spin-off Bad Piggies confirmed and priced
| September 24th, 2012 |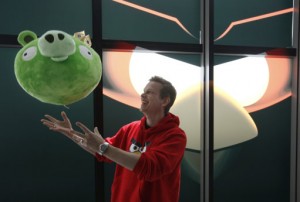 PC gamers will be able to take a dip into the fun experience that Angry Bird's spin-off Bad Piggies will most likely offer, though it would cost them just over £10.
The release date for the retail version of the game has not yet been confirmed, but the very confirmation of a PC port of the game being in development is something that would surely get a lot of gamers excited.
There is, however, the issue of the game costing £10.20 on PC that is likely to displease the fans. This price is expected to be significantly more than what would be charged for the iOS or Android version of the game.
The PC version of Angry Birds spin-off is being handled by Focus Multimedia, the same studio that was behind the release of Angry Birds, Rio, Space and Seasons.
The brand manager of the studio Alan Wild is confident about the game's chances of garnering success and referred to its gameplay as a proof of the exceptional talent and creativity that the team at Rovio possesses.
"Bad Piggies is a testament to Rovio's exceptional talent for creativity and consistently entertaining gameplay," said Wild. "This time last year saw Angry Birds achieve phenomenal festive retail success. Bad Piggies promises a repeat performance."
Wild went on to add that the appealing design, gameplay and characters in Bad Piggies would help the game to do brilliantly in the market during the Christmas season.
"With fresh and exciting appeal, established imagery and iconic characters, the Bad Piggies PC release is perfectly timed for another piggin' brilliant Christmas at retail."
The original Angry Birds series featured the birds as the main protagonists, whereas the green pigs were the antagonists. At the beginning of each level, the pigs were seen running away with the birds' eggs with the obvious intention of eating them. Players then helped the birds to retrieve those eggs by knocking down the pigs through the use of a slingshot.
A lot of players were seen sympathising with the green pigs during the game. Noticing this and the growing fondness of the players for the antagonists, Rovio decided to show the other side of the story. This time around, the players were to help the pigs steal the eggs.
The slingshot is notably missing from Bad Piggies and instead the gameplay will involve players building a variety of vehicles and equipping them with anything from propellers, rockets, springs and balloons to help pigs complete the levels while collecting up to three eggs along the way.
The game looks a bit more complicated than the Angry Birds series, though it is still too early to say with uncertainty how the fans will react to the challenge on offer.