PC version of Assassin's Creed 3 release date announced
| August 23rd, 2012 |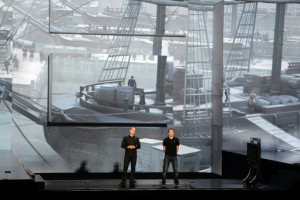 Ubisoft announces when PC gamers will be able to don the role of Connor and gamers will have to wait until November, a full three weeks after the same title hits consoles.
Ubisoft has earned the right to become one of the most important publishers and developers in the industry today. With IPs such as the Tom Clancy brand, which includes titles such as Rainbow Six, Splinter Cell and Ghost Recon, as well as the likes of Driver, Rayman and Assassin's Creed among other, Ubisoft is the hottest publisher out there today.
And when it comes to the studio's hottest IP, there is no doubt that it is the Assassin's Creed series, which is their best-selling series to date. The series has had four entries already and two of the gaming world's most iconic protagonists in recent years.
Altair got the Assassin's ball rolling and Ezio Auditore de Firenze took over the helm for three games starting off with Assassin's Creed 2, Brotherhood and Revelations. However, the ending of the third game meant that a new hero was in order as well as a new time period in history.
Enter Assassin's Creed 3 and its protagonist, Connor, the person who has no loyalty apart from his quest to seek vengeance on the Templars, regardless of which side of the war they are on.
the console version of the game is set to release on the 31st of October, which is for the PlayStation 3 and Xbox 360 – the game has no release date for the Nintendo Wii U as yet.
As in, now, traditional fashion, the PC the version of the game is set to be released after the console versions have had a few weeks in stores. In fact, the PC version of Assassin's Creed 3 will hit shelves three weeks after its console counterpart.
Gamers will have to wait until the 23rd of November before they can get their hands on Ubisoft's latest Assassin's Creed offering. The same approach has been employed by Ubisoft since the first Assassin's Creed title was released and not much has changed since.
One interesting bit of information is the fact that Ubisoft has urged gamers to use controllers instead of the keyboard and mouse set up as the title has been designed with the console controllers in mind.
Assassin's Creed 3 will be followed closely by its PlayStation Vita cousin, Liberation – a title which Sony hopes will boost the sales of the struggling console.
The game is set to hit stores during the competitive holiday season with other games such as Black Ops 2 and Halo 4 just a few of many triple-A titles set to release around the same period as well.
Other People Are Reading