PlayStation 3 users get exclusive Assassin's Creed 3 missions for free
| October 24th, 2012 |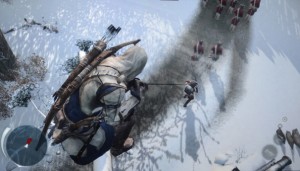 Ubisoft has confirmed that their PS3 version of the game has an extra four-mission story arc exclusive to the console as the momentum building up to its release reaches fever pitch.
Assassin's Creed always turns heads when it is mentioned in the game-isphere, as the IP from Ubisoft has built the series up into one of the biggest name in the world of video games. From its humble beginnings that set the tone in Assassin's Creed, the series has gone from strength to strength and established itself as one of the biggest IPs in the market.
The last instalment in the series, Revelations, broke the sales record for the franchise within the first month, and its no wonder that Ubisoft follow an annual release cycle.
At the same time the Assassin's Creed universe has seen interest expressed in it from Hollywood with Ubisoft recently confirming a deal with New Regency to bring the series to the silver screen.
Moving on back to the games, and Sony seems to have secured a number of deals with Ubisoft as well. Ubisoft has confirmed that the game which has spent two-years in development and boasts a new improved engine, Assassin's Creed 3, will offer content exclusive to the PlayStation 3.
This includes "a four-mission arc (which) begins with a special request from General Washington in exposing a rumoured plot to overthrow West Point, a critical link in the defense of the Colonies against Great Britain."
The description continues, "Across four missions, Connor will flush out Loyalist spies and work undercover for Benedict Arnold, culminating in a full-blown assault on West Point that Connor must halt at all costs." So much for the spoiler alerts.
The content pack is titled Benedict Arnold, the infamous traitor who attempted to hand over West Point to the British.
Sony's description also read, "And on October 30th, the most reviled turncoat in American history will be virtually resurrected in Assassin's Creed III to pay his dues once more – but only on PlayStation 3."
The part that fans will love about the bonus exclusive content is that it will not cost them a penny. The DLC will be for free and players need only enter the code found in the packaging of the game in order to redeem it.
However, that is not the end of the matter as Matt Turner, the scriptwriter for the upcoming game, also helped fill everyone in on what they can expect from the Benedict Arnold expansion pack including how some of the scenes have the dialogue that actually took place during one of the exchanges that took place between the Loyalist and the Patriots.
For more on that story click here.
So will you be picking up a copy of Assassin's Creed III on day one?