PlayStation All-Stars Battle Royale closed beta now open!
| October 16th, 2012 |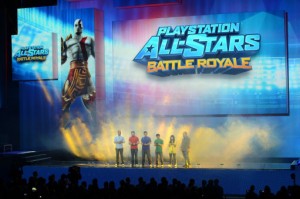 Ironic headlines apart, Sony has released the All-Stars beta for PlayStation Plus members, who also happen to get a 10% on 007 Legends if they wish to avail it and have the chance to say their last name and their full name right after with a bit of suave.
Sony's focus on pushing into the digital distribution space can be seen by how hard its pushing its PlayStation Plus membership to provide a tonne of content at lower than market prices.
One of its initiatives is to bring content to the PlayStation Network and Store and make it available digitally on the same day as the game is released by retailers. Branded as the Day 1 Digital Event, Sony also released the critically acclaimed, Dishonored, on the PS Store the same day as retailers and is following that with 007 Legends.
Sony posted on their official blog how PlayStation Plus subscribers could get the game for a lower price on the PlayStation Store than anywhere else.
"Plus members can snag the lowest price around on this new PS3 Full Game title, releasing the same day on PSN as it is at retail."
One can expect Sony to do more of the same in the future, especially when it comes to PlayStation exclusives.
However, that was not all as the publisher also announced that the beta for their upcoming party game, PlayStation All-Stars Battle Royale, would also be hitting the PlayStation Plus space.
Sony posted:
"It's time! We need your help in getting PlayStation All-Stars Battle Royale prepped for show time when it releases on PS3 and PS Vita on November 20th."
At this stage, one can consider the game more of a demo than a beta, but it seems Sony want to streamline and optimise the player versus player experience, which is probably why the game modes have been restricted to a certain number of characters and a few modes.
"Get a taste of the full game with 2v2 and 4 player online tournaments and choose from Kratos, Sweet Tooth, Radec, Sly, PaRappa and Fat Princess as you fight in Metropolis or Hades for victory."
So that's a total of six characters and two maps available in the beta and one can expect much more in the full game.
At the same time, the game will also be compatible with the cross-play functionality, so it will be interesting to see how that works out.
"You'll also get to check out the Cross Play functionality since this beta access works for both PS3 and PS Vita! The beta ends at 10/30 at 11:59pm PST, so get in while you can!"
Seeing how the beta is for free, it definitely looks worthy of a try and may even be the party game that Sony has been lacking all these years.