PlayStation Plus to get Quantum Conundrum for free
| November 13th, 2012 |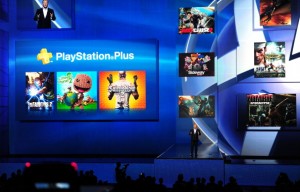 Meanwhile Machinarium gets a discount for subscribers to the premium subscription service of the PlayStation Network in addition to the game developed by the creator of Portal.
Sony is looking to push its PlayStation Network premium subscription service, PlayStation Plus, as the place to do one's console video game shopping. Exclusive to PlayStation the Plus subscription allows members to access new games early, take part in closed betas and get discounts and free games on a regular basis.
In the previous week's update, Sony announced that Resident Evil 5 would be available for download at the price of free, which took many by surprise as despite its age the game was in considerable demand leading up the release of Resident Evil 6. Yet, the more one thinks about it the more sense it makes to release the game and continue to keep interest levels in the series high.
With that out of the way many wondered how Sony would follow that up. As it turns out the publisher decided to take things slow this time around but still managed to offer a free game and a discount. Many agree that quality wise the drop is solid in terms of quality but not so much when it comes to quantity.
Starting things off with the free puzzler on offer and Quantum Conundrum is "Designed by Kim Swift (one of the original developers of the classic game Portal), Quantum Conundrum is an amazing first-person puzzler which gives you the power to hop through different dimensions, manipulating the very physical trait of the world around you in real time on a quest to save your inventor, Uncle, Professor Fitz Quadwrangle!"
The game is often described as quirky and imaginative and although it may not be as industry changing as Portal, it still adds a nice new niche to the world of gaming.
At the same time subscribers will get a 30% discount on Machinarium if they choose to purchase and download the game, provided of course they are PlayStation Plus subscribers. Priced at $9.99 for regular PlayStation Network members, Plus subscribers can get the game for $6.99.
The game is described as "a point-and-click game that immerses you in a remarkable world to solve puzzles and complete your journey." Machinarium received multiple awards including the Excellence in Visual Arts during the Independent Games Festival.
It will be interesting to see what Sony offer in their next update of PS Plus and whether or not one can expect to see discounts on some of the more recently released games.
So will you be downloading Quantum Conundrum? Or taking advantage of the discount on Machinarium? Or will you be too busy playing Black Ops 2 to even bother? Let us know your gaming plans for the week in the comments section below.