PlayStation Vita sales triple following release of game
| September 12th, 2012 |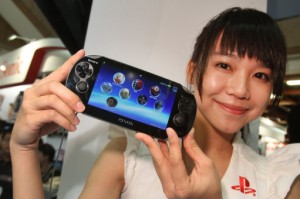 The release of Hatsune Miku: Project DIVA for the Vita has seen the console's sales jump from 9,700 units to over 45,000 units in a matter of seven days.
Japan was where Sony released their PlayStation Vita first. In fact, the console was on sale in the region in December of last year before it was eventually released in February 2012 in the rest of the world.
The sales figures have disappointed since as it failed to knock the Nintendo 3DS off the top spot and has only seen a few spikes in sales since as the figures continued to decline. Analysts called for a price cut and consumers called for more content with Sony remaining adamant that providing more content was the right strategy to boost sales in the long run.
That plan seems to have worked, although not consistently. In the United States, sales of the console jumped following the release of Mortal Kombat and Resistance: Burning Skies, before settling back down again.
The same was the case in Japan with the release of the latest Dogma game and now the phenomenon seems to have repeated itself with Sega's latest rhythm game, Hatsune Miku: Project DIVA's latest instalment.
Sega's PlayStation Vita title managed to sell an impressive 158,000 units in the previous week, as it topped the software sales charts beating out the likes of Devil Summoner Soul Hackers and Senran Kagura Burst, both 3DS titles.
As for the Vita's sales figures, well the console saw it more than triple its previous week's tally as it went from selling only 9,751-units to posting a sales figure of 46,877-units. The boost in sales saw it over take the PlayStation Portable (10,918-units) and the PlayStation 3 (12,846-units) as it ended the week in second place.
The Nintendo 3DS still remains at the number one spot with the console selling an impressive 67,926-units in the previous seven days.
As for the rest of the consoles, the Wii posted figures of 8,038-units sold, the Xbox 360 managed to beat the PlayStation 2 with 525-units sold against the PS2's 411-units.
This was an important week for Sony but they are not out of the water yet, as one has to wonder whether or not they can build any momentum. One week of solid sales will not be what Sony is aiming for as they will want to sell at these figures consistently and whether or not the Vita can manage to do that remains to be seen.
2013 will be a big year for the PlayStation Vita and will be the time that will define whether the console was a success or a failure and at the same time, it may also very well determine whether or not Sony will develop any further portable consoles or focus on its tablet line.
Other People Are Reading