PlayStation Vita's semi-annual sales figures fail to impress
| July 23rd, 2012 |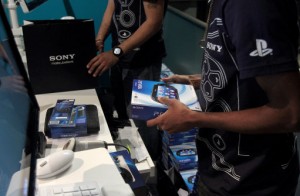 Sony remain positive, claim console has sold according to expectations despite not having reached the one-million mark since its release in Japan last December.
The Japanese market is crucial to Sony's success especially when it comes to gaming consoles especially the PlayStation brand where the consoles are known to sell well. In fact, the market in Japan is one where PlayStation not only outsells the Xbox 360 but also competes with Nintendo.
The PlayStation Vita is Sony's second generation portable gaming console with its predecessor, the PlayStation Portable, selling over 71-million units since it was released almost a decade ago. The console also outsold the Vita for a number of weeks before the latest console from Sony finally picked up the pace.
The Vita was unable to knock the dominant Nintendo 3DS off the top spot in the Japanese sales charts and only sold around 300,000 units in its first week. Since then the console's sales had fallen drastically before the release of Persona 4 The Golden was released and the Vita saw a rise in sales.
The title is the best-selling Vita title in Japan having sold over 188,000 units since it was released a few weeks ago. Hot Shots Golf 6 came in second and is the only other game to have reached the six-figure mark since the console's release, while Uncharted Golden Abyss is one of the few western titles to have done well in Japan having sold 89,390 units to date.
Many analysts still think that the Vita's sales figures have not lived up to the hype, however, representatives from Sony claim that the console has lived up to their expectations but admit that the Vita needs more content.
There seems to be a consensus among the experts that the Vita's sales can only increase either with a price cut, which Sony have strongly opposed on every occasion, or if there was more content on the console. Sony seem to prefer the latter option and have already announced a number of titles to be released on the Vita by the end of the year.
The titles include PlayStation heavy hitter, LittleBigPlanet and the rumoured Gran Turismo, while at the same time bringing in a number of third-party studios as well with Ubisoft and Activision releasing Assassin's Creed 3 and Black Ops: Declassified during the Holiday Season.
Whether or not those titles will boost the sales of the console remains to be seen, especially with the Japanese market and the Western market being poles apart in terms of taste. So while those titles may prove to be successful in the West there is no guarantee that they will boost the console's sales in Japan.
But what does the reader think? Will the Vita's sales pick up when more games are released or is the console doomed? Let us know in the comments section below.
Other People Are Reading