Pokemon battles are still big in Japan as the annual sales chart show
| November 2nd, 2012 |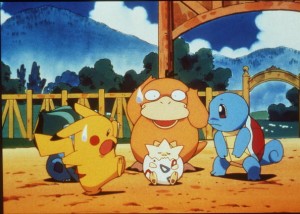 Japan: the software sales chart for the period January to October 2012 are in and be it Black or White, Pokemon still rules for many.
Japan is its own world when it comes to video game trends, tastes and preferences. There is no guarantee for successful video games from the west to see similar success in Japan as a number of titles have demonstrated.
Living up to one of legendary pop star, Michael Jackson's famous lyrics, 'it doesn't matter if you're black or white', Pokemon Black Version 2 and Pokemon White Version 2 take first and second place in the charts respectively.  Not bad for a game that was released barely a few weeks ago. Another impressive fact is that both games were released on the DS, one of the older consoles on offer in the market.
In third place is New Super Mario Bros. 2, which managed to sell over 1.5-million units in Japan alone. The game topped the charts for a number of weeks before it was replaced by a number of games. However, the 3DS title continues to sell well and one can expect it to stay in the charts for some time to come.
Another 3DS title takes the number four spot with Dragon Quest Monsters: Terry No Wonderland 3D. There really isn't much more we can say about this title but it has sold well and that's what counts….maybe.
Two PlayStation 3 titles take up the next two places with One Piece: Pirate Warriors and Resident Evil 6 coming in fifth and sixth respectively. The latter was set to be Capcom's best-selling game and so far it has lived up to that billing, though the publisher would have liked it to have sold a little better in other territories as well.
Whether or not fans will turn out in force for the next Resident Evil game remains to be seen as the latest game split fans due to the fact that it was more action-oriented instead of the classic survival-horror genre where the series had its roots.
In seventh place is the 3DS phenomenon Mario Kart 7, while Super Mario 3D Land comes in at eight. Both 3DS titles were instrumental in reviving the sales of the faltering portable console and have now gone on to establish Nintendo's platform as one of the success stories this generation.
Dragon Quest X and Monster Hunter 3 Ultimate round up the top ten. What is interesting to note is that not a single PlayStation Portable or PlayStation Vita title managed to break into the top 20 apart from Dainji Super Robot Taisen Z: Saisei-hen, which came in at number 14. It will surely be one area that Sony will be looking to improve.