Poor game design result in poor experience, says Creative Assembly's Renaud Charpentier
| September 10th, 2012 |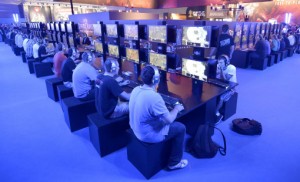 Whenever a new hardware arrives in the market, the developers find themselves competing against each other to unleash its potential through presentation of a visually pleasing experience.
This focus on graphical advancement instead of gameplay is something that ends up hurting the overall experience offered by the games, believes Creative Assembly lead designer Renaud Charpentier.
According to him, the developers are more worried about beefing up the graphics, trying to put as much detail into the texture as possible and make the game look as realistic as possible, while putting lesser thought and efforts into the design. As a result, the product that eventually comes out in the market is significantly below the expectations of a gamer.
"When you look at the market, probably 20 to 30 per cent of the games are confident, and maybe 60 to 70 per cent are not good enough," Charpentier opined during an interview with Edge. "Usually, they run. Most of them don't crash; most are competent technically. Most of them look okay or even good, but they play like sh**."
He stressed on the importance of prototyping the design of the actual game instead of making technology their biggest priority as it is the gameplay that eventually makes or breaks the game, not its graphical presentation or art.
Charpentier said that developers can no longer afford to put in a lot of resources and time into making games that gamers only play for 30 minutes before coming to the conclusion that the game is not good enough to play anymore. A big team spends a year or two on making these games and have high expectations when it comes to the response. However, the strategic blunder of laying too much focus on the graphics instead of the game's design results in disappointment for both the studio as well as the gamers.
"We can't keep releasing games that anyone can tell are not interesting to play after 30 minutes when 20 or 30 people spent two years working on them. It doesn't make any sense," Charpentier stated.
Currently acting as the lead designer of Creative Assembly's latest project Total War Battles: Shogun, Charpentier conceded that more thought is being put into the development of the game's design instead of trying to utilise whatever latest technology is available out there. Rather than looking to impress gamers through graphics, the focus is being laid on impressing them through the solid gameplay that would be on offer.
A lot of studios are being criticised for being more interesting in advancing the technological capabilities instead of focus on the game's design. The game, while overwhelming as far as the graphics are concerned, fails to make any impact in the market and therefore ends up dying away quickly.