Private equity group takes over publisher, THQ
| December 21st, 2012 |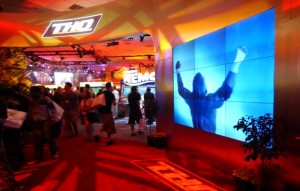 Darksiders and Saints Row publisher files for bankruptcy but assures fans that it plans to release a number of already announced titles.
THQ has been in the news for a number of reasons in recent months, though the occasional bits of good news have been blighted by the overall gloom surrounding the publisher's financial situation.
The publisher was supposed to have gone under several months ago, and no, we don't mean Australia, but rather bankrupt. However, unexpectedly high sales figures for Saints Row: The Third and later a successful launch of Darksiders 2 meant that the company bought itself a lifeline.
Those lifelines were short lived as THQ confirmed that they had filed for bankruptcy but also urged fans of their various IPs not to worry.
The statement read, "Today THQ announced that it has secured an investor, a private equity firm named Clearlake Capital Group, who is interested in purchasing most of what makes up THQ," this includes the various first-party studios as well as the various IPs, which includes the source codes and titles among other things.
In essence, Clearlake Capital now owns THQ and all of its properties, both physical and intellectual. However, this does not mean that the likes of Metro: Last Light, South Park: The Stick of Truth and Company of Heroes 2 among others.
The statement continued, "Clearlake is even providing the company the company the money it needs to keep working on the products as the process plays itself out."
"In short, they are investing in a new start for our company."
As for the specifics, THQ filed for Chapter 11 Bankruptcy, the same as some of the major companies have done in the United States in the past.
The statement cited one example of companies which earned a second chance using a similar route. "MGM filed Chapter 11 two years ago, and this year it released "Skyfall" and "The Hobbit," two of the biggest titles of the year."
THQ managed to gain a place in every gamer's heart before the news broke as their Humble Bundle managed to raise over $5-million for charities as the publisher offered some of its best titles for a minimum price of $1. Users could pay any amount above the minimum price with the excess going towards charity and even threw in Saints Row: The Third as a free download for anyone that paid extra.
The filing for bankruptcy may be sad for THQ but it should be reassuring for fans to know that they will be seeing some of the already announced titles releasing later on next year instead of being cancelled. What happens after that though, is anybody's guess at the moment, will the publisher rise up from the ashes or blow away with the wind?