Producer Mike Gamble teases additional DLC for Mass Effect 3
| June 29th, 2012 |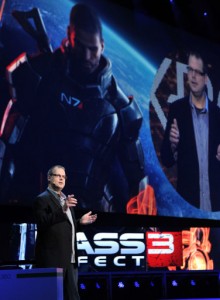 Just a couple of days after releasing the Extended Cut downloadable content (DLC) for Mass Effect 3, game developer BioWare teased fans with news of more DLC in store for the future.
Mike Gamble, producer of the third and final chapter in the Mass Effect trilogy, dropped the not-so-implicit hint about additional DLC in the pipeline for the sci-fi action role-playing game (RPG) on the social-networking and micro-blogging website Twitter.
"Would now be a good time to talk about how we're doing more DLC in the future? That was a trick question. We'll save the future DLC for future chats," he tweeted. "Don't worry though…there's much more."
The tweet by Gamble has stimulated a fresh wave of excitement among the fans of the franchise, triggering efforts to somehow dig up what the additional add-on may contain.
According to one pretty solid theory, the next DLC for Mass Effect may revolve around a rogue Reaper named Leviathan that has been working on his own agenda after parting ways with the other Reapers.
There have been a couple of references made to a rogue Reaper in Mass Effect, with the first mention of a Leviathan of Dis appearing in the first title of the franchise that was released in 2007.
BioWare included a dialogue about the rogue Reaper in the Extended Cut DLC for the latest Mass Effect title, making it seem quite probable that the next add-on pack would have something to do with the rogue reaper.
Some of the lines from the dialogue about Leviathan from the recently released DLC go like this (Possible Spoiler Alert): "So a Reaper goes rogue and kills one of its own. That's what we're looking at here, right?"  " No sign of Leviathan at these coordinates" and "That mining facility… everyone there [is] under Leviathan's control."
Whether this speculation holds any ground or is far from what BioWare has actually planned for the future will only be confirmed after the next DLC arrives.
The final chapter in the Mass Effect trilogy was met by the same colossal success as its predecessors, though the fans were left pretty disappointed with the ending to a game with one of the most immersive stories ever written.
BioWare heard the complaints of its fans loud and clear and therefore responded by releasing an Extended Cut DLC to bring "deeper insights into how their personal journey concludes." There were, however, no new endings added to the game, thus leaving plenty of fans still dissatisfied.
It would be interesting to see if the announcement of new DLC for Mass Effect would convince the fans to revisit the game that left them pretty disappointed by offering them an ending that failed to live up to their expectations.