Rayman Legends release date confirmed, demo to go live on Nintendo eShop next week
| December 11th, 2012 |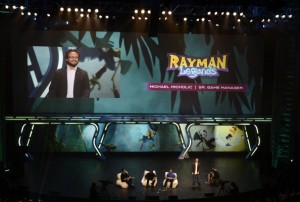 Rayman Legends has gotten an official release date, will hit the shelves in Australia and New Zealand on February 28, followed by UK on March 1.
Nintendo has confirmed the official release date of the latest title in the Rayman franchise for the UK, Australia and New Zealand.
The game will be arriving in the continent of Australia on February 28, whereas UK fans of the game will be able to get their hands on the game starting March 1.
Rayman Legends, which is a direct sequel to Wii's classic Rayman Origins, has been developed exclusively for Wii U, Nintendo's first-ever HD console, with Ubisoft looking to make the most of what the new console hardware has to offer.
Originally planned for release in the final quarter of 2012, the 2D platformer was delayed until the first quarter of 2013.
The development process has taken longer than the studio has anticipated and therefore it was scratched off Wii U's launch titles list.
According to the bi-monthly publication Pure Nintendo, Ubisoft planned on releasing Rayman Legends on February 26, 2013.
However, the publisher did not confirm this and instead reiterated what it had announced earlier about the game launching sometime during the first quarter next year, giving no definite date for any particular region.
Aside from confirming the release date of the game for UK, Australia and New Zealand, Nintendo has also confirmed that Wii U users will be able to purchase a demo of the game via Nintendo eShop starting next Thursday, December 13, 2012.
The gameplay footages of Rayman Legends have the fans of the franchise extremely excited. Where majority of the publishers and developers focus on making the graphics as realistic as possible, Ubisoft has stuck with the cartoonish graphics that set Rayman Origins apart from other games.
The new Rayman game is also seen to be making the most of Wii U's unique tablet-inspired controller, GamePad.
Ubisoft has introduced a number of new features and characters in Rayman Legends, but one of the most noticeable additions to the game is the support for up to five players.
While four players will control their characters through their GamePad, the fifth player will be able to join in on the action by taking control of Murphy and manipulating him through the touch-screen on the controller.
Nintendo has made a reputation of breaking away from the on-going trends and setting its own standards for satisfying experience.
Once again, the company has set itself apart from its rivals by putting more emphasis on innovative and immersive gameplay instead of making realistic graphics the primary objective.
The console has already launched in North America, Europe, Australia and some parts of Asia, mainly Japan.