Release date for World of Warcraft: Mists of Pandaria expansion pack announced
| July 26th, 2012 |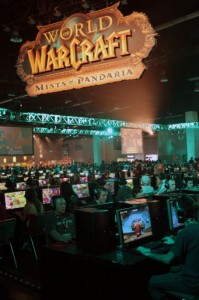 Blizzard Entertainment announced that the new World of Warcraft expansion pack named Mists of Pandaria will be out in retail and digital stores on Tuesday, September 25, 2012.
The upcoming expansion pack for the highly-acclaimed massively multi-player online role-playing game (MMORPG) will allow players to explore the long-lost continent of Pandaria, while introducing a whole new race Pandaren and new class Monk to the game. A handful of other content has also been incorporated into the game to offer players a fresh experience.
Pandaren is the first neutral race in World of Warcraft and will get to choose to either side with the Alliance or join forces with the Horde. While the tension between the two sides will escalate to an entirely new level after the discovery of the new continent, players will encounter strange creatures and unlock new and powerful secrets that have been hidden from the world for centuries.
With the introduction of new class Monk, players will be able to learn Pandaren martial arts and also get to choose wither they want to battle as damage dealer, tank, or healer.
The latest expansion pack for World of Warcraft will also increase the Level Cap to 90 while introducing new spells and abilities for the players to learn while exploring uncharted and challenging territories.
Other new features in the Mists of Pandaria expansion pack include new zones, new scenarios, dungeon challenge mode, pet battles and a new talent system.
As per the report, the basic version of the expansion pack will become available at a retail price of $39.99.
For those players who are willing to spend an extra $20, they will be able to get their hands on the Digital Deluxe version of the expansion pack. Aside from the content available in the standard pack, the premium version will include other exclusive in-game bonus items such as an Imperial Quilen flying mount and a Lucky Quilen Cub pet along with a Pandaria-related Banner Sigil and accents for Diablo III and StarCraft 2 Battle.net net portraits.
Players will be able to upgrade from the standard version to the Digital Deluxe version at any point by paying an additional $20.
There will also be one more edition of the Mists of Pandaria expansion pack, Collector's Edition. It will be available for $79.99 and will include the Deluxe Digital content as well as a behind-the-scenes DVD and Blu-ray along with the game's soundtrack and a 208-page art book.
"Mists of Pandaria contains the biggest variety of new content we've ever created for a World of Warcraft expansion, with features that will appeal to new players, veterans, and everyone in between," said Blizzard CEO and co-founder Mike Morhaime. "We've received a lot of great feedback from players during our most extensive beta test yet, and we hope they enjoy exploring everything Pandaria has to offer when the expansion comes out in September."
There has been a steady decline in the World of Warcraft community since the last couple of years, especially with the likes of Diablo III and League of Legends jumping into the scene. However, with a whole range of new content being brought in by the upcoming Mists of Pandaria expansion pack, it seems likely that a lot of gamers will return to Azeroth to continue the battle between Alliance and Horde.