Report – Rayman Legends arriving on February 26, 2013
| December 4th, 2012 |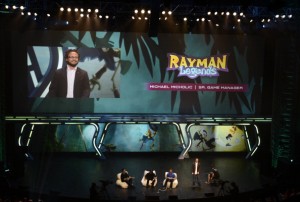 Rayman Legends will be reportedly hitting the shelves on February 26. 2013, or at least that is what Pure Nintendo wants its audience to believe.
The bi-monthly publication, which aims to continue what magazines such as Nintendo Power started, claims to have received a confirmation from Ubisoft that the game will be getting releasing in the final week of February.
If the date mentioned by Pure Nintendo turns out to be true, it would mean that the game releases on the same day as BioShock Infinite, 2K's latest first-person shooter for the Xbox 360, PlayStation 3 and PC.
The publisher, however, has reiterated what it had stated earlier about releasing the game sometime during the first quarter of 2013, while giving on exact date.
"Ubisoft confirms that Rayman Legends is scheduled for release in early 2013," Ubisoft said in a statement provided to VideoGamer.com. "The team is working hard to finalize the game and is looking forward to sharing more details with fans very soon!"
The publisher has asserted that the statement applies globally, which means that the release date given by Pure Nintendo has no authenticity yet.
Rayman Legends has been in development for quite some time now. It was originally slated for a 2012 release, before Ubisoft delayed its release until the first quarter of 2013.
The platformer is a direct sequel to last year's Rayman Origins and will come loaded with a wide range of new features and characters.
A Rayman Legends trailer leaked on YouTube earlier this year featured the support for Wii U's near-field communication (NFC) technology.
The video showed users beaming objects into the game by placing it on the GamePad, Nintendo's new console's tablet-influenced controller.
While this was nothing sort of a break-through in video games, the game's creative director Michel Ancel said that the leaked trailer showed nothing but one of the many ideas that the studio had been toying with, while further adding that the NFC technology's integration in Rayman Legends may come off as a very appealing feature, but it is still too soon to confirm if it would be part of the final product.
Rayman Legends is one of the many exclusives that are expected to significantly increase the appeal of Nintendo's first-ever HD console and drive its sales. Other exclusives that have either been released already, or are in the pipeline include New Super Mario Bros U, Pikmin 3, ZombiU, Nintendo Land, Bayonetta 2 and a 3D Zelda game.
A number of renowned multiplatform games have also released for Wii U, which include but are not limited to Call of Duty: Black Ops 2 and Assassin's Creed 3.
Wii U has already launched in North America and Europe, while the launch in Japan is scheduled for December 8.