Resident Evil 6 Collector's Edition revealed, without figure though
| June 29th, 2012 |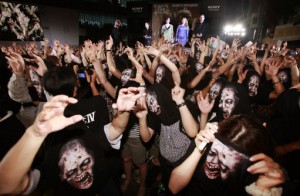 The world sighs in disappointment as the RE6 Collector's Edition doesn't come with Chris Redfield, Leon Kennedy or even Jake Muller figures but it does have an Ivy University hoodie.
As is the case with any triple-A title that is part of a long running series, there never is just one option of the game for gamer's to choose from. Be it titled a Collector's Edition or a Limited Edition, the same game is always sold in a number of different ways in order to appease the more die-hard fans and allow the publishers to earn a little extra in the process.
It has been done with series such as PlayStation's Killzone, Uncharted and Gran Turismo 5; Xbox's Gears of War, Halo and Forza Motorsport and every other publisher one can think of. The Assassin' Creed series also comes out with a number of editions of the same game as does EA's Dead Space series.
Capcom is also great at offering Limited and Collector's Editions of the games as they did with Resident Evil 5, which came complete with a figurine of the game's protagonist Chris Redfield.
In fact, nearly every special edition comes with a figure or statue of some sort these days; Killzone had the Helghast sniper, Uncharted 3 had Drake, Assassin's Creed has had Ezio and now Connor and Dead Space had Isaac Clarke.
So it will come as a disappointment to many to know that the Collector's Edition does not come with a figure of any of the game's three protagonists. However, it does come with a number of other goodies, which may not be as appealing but will be sure to fancy a number of Resident Evil fans.
First things first, the game itself will be a part of the package, which really comes as no surprise and is rather obvious. Next up is a Zombie Steel Book and a hardback art book full of concept art for the game.
Depending on which console the player has bought the game for, the Collector's Edition will also come with a Resident Evil 6 Avatar DLC code or a dynamic theme for the PlayStation 3.
Next up is an Ivy University, Tall Oaks hoodie, the sweatshirt comes in one size only and is of the fictional university where Leon is forced to kill the zombified President of the United States of America.
Also included are 'The RE6 forces emblems' – High quality enamelled zinc alloy emblems of the three main protagonists squad insignias, mounted and set in a limited numbered frame authenticated with signatures from Senior producer Hiroyuki Kobayashi, Producer Yoshiaki Hirabayashi and RE6 Director Eiichiro Sasaki."
To cap it all off, all of the above will come in a 'Needle Bomb' box based on an actual weapon in the upcoming game.