Resident Evil 6 demo code reveals fourth single-player campaign
| July 10th, 2012 |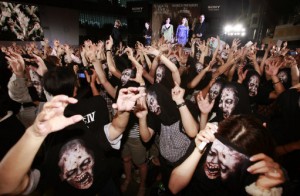 Ada Wong may very well be joining Leon Kennedy, Chris Redfield and Jake Muller as a playable character in Capcom's sixth instalment in the core Resident Evil series.
It seems that Capcom may have a surprise lined up for all the Resident Evil fans out there as a number of more technically gifted gamers have uncovered lines of code in Resident Evil 6's recently released demo of the game which may indicate a fourth single-player campaign.
Capcom has already confirmed that two of the series' favourite characters, Chris Redfield and Leon S. Kennedy, will be featuring in the game alongside a new character in the Resident Evil universe, Jake Muller.
The third character happens to be Albert Wesker's son and will introduce a new style of combat to the series with an emphasis on the hand-to-hand approach which Capcom seemed to want to implement since Resident Evil 4.
All three characters' storylines will be linked to Ada Wong as Chris Redfield wants her dead after she killed his squad. At the same time Leon wants to take her alive and answer for her crimes, while Wong chases Muller, whose blood happens to be of extreme value after it turns out to be a cocktail of the viruses combined.
It turns out that players will actually get Ada Wong as a playable character with a full campaign on her own. The news spread across the internet like wildfire after lines of code were identified in the recently released demo of the game and posted on the world wide web for all to see.
At the same time rumours pertaining to who her co-op partner will be have also emerged with G4TV, along with a majority of the internet claiming that it will be one of Ada Wong's clones.
"Ada's co-op partner is only referred to as "HELPER," though some believe that Carla Radames – Ada's clone, based on leaked RE6 info from earlier in 2012 – will be the second character."
However, it remains unclear at this point in time whether Wong's campaign will be available from the start or whether players will have to finish the game before they can unlock her play through. At the same time rumours of the fourth campaign coming as a DLC have also emerged and gathered pace, especially with studios having been known for putting some on-disc DLC in the past.
Capcom have high hopes for Resident Evil 6 and are expecting the game to break the series sales record, which is currently held by Resident Evil 5. The publisher also boasted how each of the single-player campaigns was up to 70-80% the length of Resident Evil 5, which in itself is quite impressive.
It should be noted that the reports of a fourth campaign remain rumours until Capcom officially comment on them and should be taken with a touch of salt in the meantime.
Other People Are Reading