Resistance and Black Ops dev rebranding itself
| October 19th, 2012 |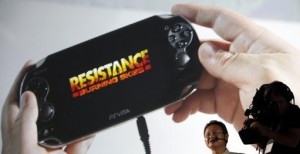 Nihilistic will now be known as nStigate as the studio shifts focus from physical retail to digital distribution as well as mobile games. Many gamers praise the move but for different reasons than genuine joy.
Nihilistic was one of the studios Sony would rely on to bring some of the biggest names in the world of gaming to their portable consoles. The studio was first responsible for bringing the Resistance franchise on to the PlayStation Portable system.
The game was met with mixed reviews as many praised the narrative and gameplay of the game but were left wanting more, a lot more, of the game in terms of its multiplayer component. However, the studio's reputation to take a franchise and add their own spin and creative take to it meant that the games they made lost some of the magic that made them special.
The studio was also responsible for the first first-person shooter to be released on Sony's PlayStation Vita console, Resistance: Burning Skies. The game was hailed for demonstrating that the genre could have a home on the portable console but nothing more.
At the same time Nihilistic is set to release the first Call of Duty game on the Vita as well, with Declassified, set to release on the 13th of November. The game was not received all too well on its first gameplay walkthrough, although the studio assures fans of the series that the end product will be much, much better than what they saw.
However, it seems that Declassified may very well be their last physical retail title as the studio is set to rebrand and re-launch itself over the course of the next two months.
The studio posted the following announcement on their website:
"Nihilistic is announcing today that (OMG!) we are re-organising our company after 14 years of working in retail boxed game development, and re-forming as nStigate Games, a new company focused on downloadable, on-line and mobile games."
The announcement also stated that none of the current staff would be let go and outlined the overall plan. "Over the next couple months we'll get leaner as some of our talent finds new homes, and emerge as a smaller and more focused company."
Kind of confusing seeing how they said 'no planned lay-offs' earlier as it seems some of the staff will be leaving of their own accord.
Nihilistic signed off with "It's been a privilege and a joy to serve our players for the past years. We love what we do, and we love it when you guys like it. Thank you for playing."
The studio is set to end its 14 years of existence by December as they plan to cater to a newer, emerging market.