Resistance wasn't a Halo because….
| September 14th, 2012 |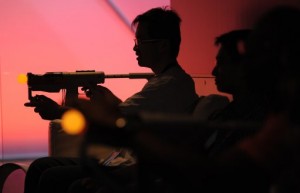 The series' developer, Insomniac Games, reflects on why their PlayStation 3 exclusive series never reached the level of Microsoft's behemoth of a first-person shooter, Halo.
A few months after completing the Resistance trilogy, which saw players fight for humanity's survival against the Chimera across two continents and ending their exclusivity deal with Sony, Insomniac Games took some time to reflect on why their series never became the superstar it was destined to be.
To add a bit of background, Insomniac Games was tasked with the duty of delivering a PlayStation 3 launch title that would rival Microsoft's Halo series. The result as Resistance: Fall of Man. The game supported 40-player multiplayer and boasted an elaborate and rather engaging campaign, but the slow sales of the console during launch meant that not many gamers actually played the game.
Those who did flocked in their thousands to pick up a copy of Resistance 2, which although set in the same universe, adopted a different art style and tweaked a number of gameplay mechanics as well. Fans and critics still praised it but Killzone 2 was released a few months later and PlayStation 3 users forgot all about Resistance 2.
Resistance 3 pretty much flew under the radar as the game sold lower than expectations despite being regarded as one of the best games that no one has ever played.
Speaking on the Resistance series, the CEO of Insomniac Games, Ted Price, explained that the studio has a number of "theories internally about why Resistance wasn't a Halo," before elaborating, "One is that we changed the game a lot in Resistance 2, and we surprised players in a way that perhaps wasn't what was expected. And that may not have been a good thing."
"By changing up some of the core mechanics…we got a lot of strong feedback we did that." The mechanics included the fact that the game's protagonist could only carry two weapons at a time compared to the weapon wheel in the first game.
Price continued, "On Resistance 3, we went back to some of our more traditional core mechanics that players did love and then built a story that was more personal."
Resistance 3 is also hailed as the most complete shooter on the PlayStation 3 console and Price added, "We're really proud of Resistance 3. The team felt very personally connected to Resistance 3."
It seems there were a number of reasons that led to Resistance not being giving the due attention it should have been, be it slow sales of the console it was exclusive on, making too many changes in the sequel or it flying under the radar the third time around. The Resistance series had plenty of promise and it lived up to most of it, it just seems it was the right game at the wrong time.