Rockstar has lofty ambitions for the future of the GTA series
| December 24th, 2012 |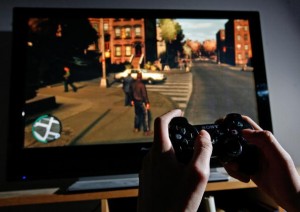 The developers wish to make on in-game world where all the cities of the Grand Theft Auto games are connected and can be visited.
Rockstar has been a busy developer over the past few years, bringing award winning title after award winning title to PCs and consoles. Red Dead Redemption, L.A. Noire and Max Payne 3 are the three main examples of the hit factory's prowess at what they do.
At the same time, the studio is also busy teasing everyone with a constant stream of Grand Theft Auto V updates. The latest game in the series was shrouded in mystery for quite some time before Rockstar decided to let the media share the game with the world, albeit, in limited fashion.
However, with each passing week, more and more is being found out about the game including some rather interesting facts. Firstly, the game will not feature just one protagonist, but rather three, each with his own unique story in the overall story arc.
Not only that but the game's world is the biggest the series has ever seen and the reason for this was to accommodate flying jets around the massive map.
Yet, it seems that this has given Rockstar the urge to, one day, allow players to fly from one map in the game to an entire new one. What will those other maps be? We hear you say. Well, as it turns out Rockstar want to release a game where players can fly to every city ever created for the Grand Theft Auto series.
Leslie Benzies, a producer at Rockstar, outlined the studio's vision for the series, she said, "Of course at some point we would like to have one big world containing all our cities and let the player fly between them and revisit their favourite areas, and in that context re-imagining Vice City would be very interesting."
The current generation of gaming consoles may not be able to run that kind of a load but there is hope for the next generation of consoles to be able to make such a vision a feasible reality.
In the mean time however, Rockstar continues to feed the gaming public scraps of information about the game and it does sound pretty ambitious. Whether or not the game will go on to be a success remains to be seen with some fans not too happy with Grand Theft Auto IV.
No release date for the game has been given and a Q1 2013 release is becoming increasingly unlikely. Sony plans to release The Last of Us in May and it does seem as if Rockstar will announce a release date for their game around the same time.