Sales of video game not affected by Connecticut shooting, says analyst
| December 24th, 2012 |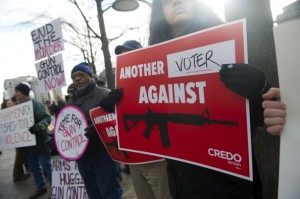 Cowen & Company analyst assures investors of minor impact at most on sales of games from possible legislation or consumer backlash following Connecticut shooting.
The whole world and especially the American people are still stunned by the tragic incident of an armed man gunning down 20 children and 6 adults, including himself and his mother, at Sandy Hook Elementary School in Newtown, Connecticut, on Friday, December 14.
In the wake of the tragic incident and discovery of the shooter's addiction to Activision's renowned first-person shooter franchise Call of Duty, the lawmakers have begun to suspect a link between violence in games and threat to well-being of society, especially children.
With talks of new legislation going on in Congress and consumers eyeing violence in games with utter disgust, the investors have begun to worry about the fate of video games and their market performance.
Cowen & Company analyst Doug Creutz has assured the investors that they have got nothing to worry about as a possible legislation or consumer backlash will have minimal impact on the sales of video games, including the ones depicting violence.
According to him, any new attempts to regulate the sales of video games would be struck down immediately by the courts due to the high-profile ruling given by the Supreme Court last summer, which had deemed the sale of games with violence to children a direct violation of First Amendment.
West Virginia Democrat senator Jay Rockefeller introduced a bill in Congress last week, which would task the National Academy of Sciences (NAS) to comprehensively study and investigation the effects of video games depicting violence and other violent programming on children and their well-being.
Creutz said that this step would make little difference, contending that majority of the adults have already established opinions about the effects of violence in games and real world. Therefore, the results of the study will do little to reshape them or change the way they look at such games.
"While these concerns are understandable–particularly given the currently emotionally charged environment–we think video game shares are now pricing in much more risk to their business models than actually exists," Creutz said in a statement. "As a result, we think the group now generally represents a buying opportunity ahead of what should be a strong year for the industry in 2013 due to a loaded first half release slate and the likely launch of new Microsoft and Sony game consoles in the back half of the year."
The Cowen & Company analyst said that retailer checks with Amazon reveal that even after the Connecticut shooting incident, Call of Duty: Black Ops II and Halo 4 are still selling pretty well, thus making it quite apparent that the impact of the incident on sales of video games is very minor.