Sega releases the iOS version of Crazy Taxi, Android version coming soon
| October 13th, 2012 |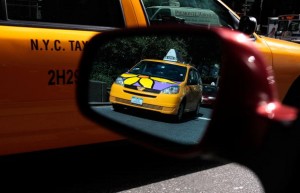 Sega had announced earlier this week that it is bringing the fast-paced wackiness of Crazy Taxi to Apple's iOS devices soon.
Well, it turns out that the publisher was in no mood to keep anyone waiting and therefore the game is already out.
The iOS version of Crazy Taxi is a full port of the critically acclaimed Dreamcast version, complete with the main mode and 16 mini games.
The music is as adrenaline-pumping as ever, with Offspring and Bad Religion making sure that the tempo of the background score matches the crazy driving.
Anyone who has played the original Crazy Taxi game will be more than familiar with the classic voice-over man, who makes it apparent from his very tone that riding with him would surely be an unforgettable experience.
Fortunately, the voice-over is returning in the latest version of the game, insisting as before that "it's party time, let's have some fun."
One of the best things about the Crazy Taxi game was its physics-defying driving mechanics. Yes, the realism featured in the Gran Turismo and Need for Speed franchise is something that we have become heavily obsessed with over the years, but the in-correct physics in the open-world crazy racing game is a breath of fresh air after so long.
It seemed like a much-needed break and Sega has done the right thing by choosing this moment to revisit the classic gem.
The graphics of the game are also nothing short of impressive, courtesy of the Retina displays offered by the latest Apple devices.
The iOS version of Crazy Taxi also has an optional tilt and touch control, something that is becoming a norm for racing games on mobile and tablet platforms these days.
The craziness in Sega's critically-acclaimed racing game revolves around the player driving a taxi with the goal of picking up customers and taking them to their desired destination within an allotted time.
The player receives cash for the various stunts performed while taking the customer to its destination. These stunts include but are not limited to near-misses with other vehicles, narrowly avoiding pedestrians, etc.
Upon reaching the destination within the allotted time, the customer will get off the car and pay the fare. Additionally, the session will be rated on the basis of how long it took for the player to bring the customer to its desired location.
The player gets guided to the destination through a green arrow, which does not take the numerous obstacles into account and thus leaves it to the player to make it around them to reach the destination.
The iOS version of Crazy Taxi is compatible with iPhone, iPad and iPod Touch.
Sega has also confirmed that the Android version of the game will be coming out soon.
Other People Are Reading