Shigeru Miyamoto likely to revisit GameCube – Game Boy Advance link ideas with Wii U
| December 17th, 2012 |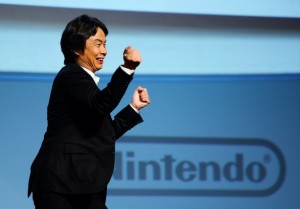 The brain behind Mario exploring years-old GameCube – Game Boy Advance link ideas for Nintendo's next-generation console.
Game designer and producer Shigeru Miyamoto conceded during a recent interview with GamesMaster that he is likely to return to the unrealised ideas of linking the Game Boy Advance and GameCube.
He said that the company is considering revisiting the GameCube – Game Boy Advance linking system with the Wii U, which has a greater potential to support the idea that the company was forced to abandon nearly a decade ago due to various factors, which included by were not limited to the difficulty of implanting it and requirement of owning more than one handheld console.
"I think it is very likely. I cannot tell specifically what ideas I used to have at the time which might be realized this time around. But as you might recall, at one of the E3 shows several years ago we showcased a game of Pac-Man Versus, which was a really interesting game. Unfortunately however it was rather hard for everyone to own four GBAs at the same time," Miyamoto told GameMasters.
During the Electronic Entertainment Expo (E3) in 2002, Nintendo had shown off the GameCube – Game Boy Advance link ideas with Pac-Man Versus.
The GameCube title could only be played with the Game Boy Advance as its controller, with its screen serving as a secondary screen for the game.
Despite all the promise that the Pac-Man Versus showed, only a few more games appeared that were able to link the two Nintendo systems in an interesting way for an entertaining gameplay.
While there were a number of complications involved in the linking of GameCube and Game Boy Advance, Miyamoto feels that things are looking much brighter now that Nintendo's next-generation console is here.
Miyamoto said that with Wii U, the interest in linking two consoles have started to look even more convenient, with game makers outside of Nintendo also beginning to show a great deal of interest in the link system.
A number of third-party publishers have already released games for Nintendo's first-ever HD console, which makes use of the touch-screen on its tablet-inspired controller GamePad, with ZombiU by Ubisoft being just one of the many examples, thus making it quite obvious that the opportunity to link other consoles with it is very much there.
Launching in the North American region on November 18, before hitting the shelves in Europe and Australia in November 30, and eventually arriving in Japan on December 8, the Wii U has been making quite an impact in terms of commercial success, with the consumers showing a great deal of interest in trying out the latest innovative experience that the Japan-based company has offered.
Other People Are Reading