Sony executives take massive pay cuts after record losses
| June 20th, 2012 |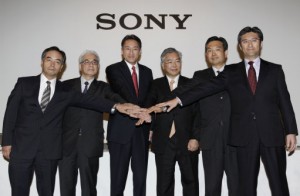 The consumer electronics giant recorded a woeful 2011 in terms of their financial statements and the result has been the company's top executives reducing their salaries.
Sony may produce more than just PlayStation consoles, as that is handled exclusively by their SBU, Sony Computer Entertainment, however when the company suffers the effect can be felt all over the company.
It turns out that the Japanese company has been struggling over the past four years. To put things into perspective Sony has recorded total losses of $10.77-billion since 2008. That is 6.92-billion GBP and over 856-billion Yen.
The figures were a result of a number of factors including the natural disaster that devastated Japan coupled with the appreciation of the Yen as well. However over $172-million can be attributed to the hacking scandal that shook the company in 2011.
A group of, as yet, unidentified hackers breached the security measures Sony had in place protecting their servers. The hackers then went on to steal personal information on over 100,000 PlayStation Network account holders, including information that could be used to alter or reset passwords.
Sony maintains that no credit card details were stolen and there have been no reports against the company's statement. As a result Sony had to close down the PlayStation Network for over a week as they looked to investigate the issue.
Afterwards, Sony introduced the 'Welcome Back' offer which allowed PlayStation users access to PlayStation Plus for a limited time period as well as two free games.
The President of Sony Computer Entertainment, Kaz Hirai, publically apologized on a number of occasions for the incident and assured everyone that it the company would not allow such a situation to arise again.
Moving on, it turns out that the seven of the 14 members who make up Sony Board of Directors have returned their bonuses as a result of the company's struggles on the financial side. In addition, a total of 21 executives at the company are set to see a cut in their salaries.
The executives in question received salaries in excess of $10-million for the previous year ending March 2012.
Things do not seem to be improving either as the PlayStation Vita is struggling in terms of sales as the console only recently showed an increase in sales and that too not by a significant enough margin.
However, Sony will be hoping that software sales will pick up over the next few months with titles such as The Last of Us, Beyond: Two Souls and God of War: Ascension headed for the PlayStation 3. At the same time, titles such as Black Ops: Declassified and Assassin's Creed: Liberation are set to increase interest in the portable console as well.
All in all, 2012 is set to be a crucial year for Sony as it looks to build some momentum for next year where many expect the consumer electronics company to announce the PlayStation 4.