Sony reiterates stance on PlayStation Vita sales
| August 31st, 2012 |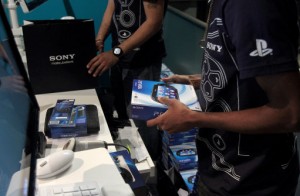 Kaz Hirai, the CEO of Sony, believes there is no reason for alarm surrounding the sales of their second generation portable gaming console, although he did concede that certain territories were below their expected forecasts.
The PlayStation Vita was announced at a time when Sony was struggling on the financial front and was hit with controversy surrounding a hacking scandal that cost the company in excess of $170-million.
Sony was hoping that the Vita, hailed as an impressive piece of technology by nearly everyone in the industry, was to be the solution to their financial woes. However, it turns out that that particular plan did not materialize as analyst believe that the console has not sold as well as it should have.
According to third-parties, the Vita is in need of a price cut to attract more consumers to the console. Sony on the other hand seem satisfied with how the Vita has fared in the market and believes that sales will pick up once there is more content available on the console and has ruled out following in Nintendo's footsteps and slashing prices.
Kaz Hirai, the former president of Sony Computer Entertainment and the current CEO of Sony, went on record and stated that the Vita was performing well, although it was struggling in certain territories where the manufacturer was expecting it to be doing better.
He said, "Worldwide, the Vita is pretty much along where we would expect It to be, maybe trending behind in certain territories."
The Vita failed to take the number one in its debut week in Japan and has since struggled to match its predecessor, the PlayStation Portable, as well. However, there were spikes in sales of the game when titles such as Mortal Kombat and Resistance: Burning Skies were released.
Sony will be hoping that the release of LittleBigPlanet will do more to aid the sales of the console as well as their lineup of future releases on the console. Third-party heavyweights such as FIFA 13, Assassin's Creed: Revelations and Black Ops: Declassified are all set to be released before the end of the year and 2013 seems to be the year Sony is hoping will belong to the Vita.
The publisher has announced two major first party titles, Guerrilla Games' Killzone: Mercenary and Media Molecule's Tearaway. Both titles received plenty of applause and were met with excitement when they were announced at GamesCom earlier on in the year.
Whether or not all the anticipation materializes into sales remains to be seen but it seems that the success of Sony's 'content will boost sales' policy will put to the test in the coming months.
But what does the reader think; will more games make a big enough difference or is the price cut the better way to go? Let us know in the comments section below.