Sony to help Xbox 360 owners satisfy their desire for PlayStation 3 with super slim offering
| September 24th, 2012 |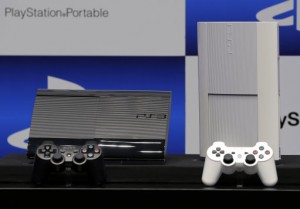 The new slimmer version of PlayStation 3 seems like a pretty confusing strategic move by Sony since the console is nearing the end of its life cycle.
However, the hardware marketing executive at Sony Computer Entertainment America John Koller explained that the decision to release PlayStation 3 'super slim' was based on the existing demand of the console, especially within the Xbox 360 owners.
Hearing something like this from a Sony executive hardly comes as a surprise as one can expect the company to defend its decision.
However, Koller sounded really convincing while stating that the newer version of the current-generation console has a pretty strong chance of doing well in the market since a lot of Xbox 360 owners are interested in getting their hands on a PlayStation 3 console and would eagerly make a purchase if they are offered value for their money.
"We have seen a very high interest rate from Xbox 360 consumers wanting to purchase a second console," said Koller during an interview with GameSpot.
That is something that the company has aimed for with their latest model of the console. By releasing a relatively cheaper version of the console and bundling it with exclusives such as Uncharted 3 is bound to pull the crowd who have been caught in a dilemma ever since the two consoles first arrived in the market.
Nearly everyone who first came across the PlayStation 3 and Xbox 360 found himself confused as to which console suited his gaming needs better. Both the machines were pretty powerful with their own set of advantages and disadvantage.
In most cases, the final decision was taken after taking the exclusive titles into account, with games such as God of War III and Uncharted leading to the sales of PlayStation 3, while the likes of Halo and Gears of War served to pull the consumers towards Xbox 360.
Getting hands on one console left the consumer craving for the other console as well in most cases, since the exclusives on both consoles were pretty enticing.
Taking notice of the strong desire for another console existing in the market, Sony decided to cater to the needs of the consumer by announcing the slimmer version of PlayStation 3, thus giving the Xbox 360 users to finally sate their hunger for the games that they were indeed worth getting one's hands on.
"We saw the same kind of thing happen in reverse during the PS2 years, when a lot of PS2 consumers said they wanted to get an Xbox because of Halo and some other games. So we think the strategy works and it's a good one," said Koller.
It remains to be seen whether Microsoft follows suit and releases a cheaper version of its console to cash on the market comprising significantly of PlayStation 3 owners.
Disclaimer: the views and opinions expressed in this article are the writer's own and do not reflect the editorial policy of Wishfree.com.