Splinter Cell film project makes progress as Ubisoft signs deal with New Regency
| December 8th, 2012 |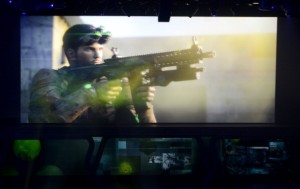 Ubisoft's Tom Clancy: Splinter Cell film has taken yet another step towards reality after the company signed with New Regency for the big screen production.
The film adaptation of the steal video game franchise seems to be high on the priority list of Ubisoft, which is actively putting together a team to make the project happen.
It was reported by Variety earlier this year that Tom Hardy, who played Bane in Dark Knight Rises, has been signed to bring the character of Splinter Cell's main protagonist Sam Fisher's role to life.
Eric Warren Singer has also been confirmed to be taking on the responsibility of penning down the script for the film.
Both the actor and script-writer have already proven themselves in Hollywood and thus their involvement in the film adaptation of the stealth action game appeared to be a very positive sign.
The film project has indeed moved forward now that Ubisoft has brought New Regency onboard.
The studio will be working in collaboration with the CEO of Ubisoft Motion Pictures Jean-Julien Baronnet as part of the deal, thus allowing the latter to ensure that the production stays as close to the true spirit of the game as possible.
"With actor Tom Hardy attached and screenwriter Eric Warren Singer to write the script, Ubisoft Motion Pictures will lead the development with the support of New Regency to bring the franchise to the big screen in a dynamic way," Baronnet said. "For Ubisoft Motion Pictures, creative control is key and New Regency shares our commitment to respecting the creative freedom of our team. Their ability to produce both blockbusters and intriguing indie hits is an ideal fit for the 'Splinter Cell' franchise."
Ubisoft sure seems to have made the right choice by attaching New Regency to the Splinter Cell film, as the latter is already working on a film adaption of Assassin's Creed, which is set to feature Michael Fassbender in the lead role. The experience of working on one project is bound to come in handy for the other.
Ubisoft was said to be in talks with Warner Bros. and Paramount in the past, but it seems that neither of the two production and distribution studios could come to an agreement with the publisher.
With the likes of Hardy, Singer and New Regency attached to the film adaption of Tom Clancy's Splinter Cell project, the fans of the franchise and movie lovers appear to have very little to worry about.
While the movie adaptation of video games is something that is not uncommon in Hollywood, the response of the public to these films has been quite dismal due to its quality.
It remains to be seen if Ubisoft manages to please the film loves and satisfy the Splinter Cell and Assassin's Creed fans.
Other People Are Reading