Star Wars: The Old Republic going free starting November 15
| November 11th, 2012 |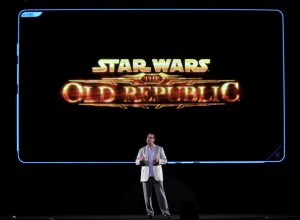 The free-to-play model has been becoming increasingly popular with every passing day and it seems that Electronic Arts (EA) and LucasArts, recently acquired by Disney, have been bit by the freemium bug as well.
It has hardly been a year since the launch of the massively multiplayer online role-playing game (MMORPG) Star Wars: The Old Republic as a subscription-based product, but the publisher is convinced that the best thing to with the game is to make it free-to-play.
The publisher confirmed via a tweet on the social networking and micro-blogging website Twitter that the free-to-play option will be added to the Star Wars game on November 15.
Developed by BioWare, the same studio that has brought us the Mass Effect franchise, Star Wars: The Old Republic features various species, eight classes, plenty of missions and a decent degree of freedom to customise ships and characters.
Just like other free-to-play games that are dominating the online space these days, the MMORPG version of Star Wars also has some of its content locked to gamers who are seeking to enjoy the experience for free.
This restriction will include limited classes available for the players to choose from, less travel options, restriction on the number of PvP (player-versus-player) warzones that one can join in a given time.
Gamers who are willing to spend a little money to make their time in the Star Wars universe memorable and even more satisfying will have access to all the content in the game.
Released in December 2011, Star Wars: The Old Republic generally received good reviews from the critics.
The game was unable to pose any challenge to the likes of Defence of the Ancients (DotA) or League of Legends, both of which are considered among the most popular online games, but was still able to create a decent niche for itself
With the game doing pretty good over its first 12 years, there is hardly reason to expect the game to lose its popularity in the coming days. Instead, the users are expected to increase.
Once the gamers get the taste of the experience, the publisher hopes to find them willing to part with their cash to add something extra and more special to the game, thus keeping the experience fresh with the passage of time.
While the fans of the Star Wars brand are not expected to wait too long before grabbing the opportunity to get their hands on a free-to-play Star Wars game, it would be interesting to see how the gamers currently addicted to DotA and League of Legends react to the game and whether the efforts by BioWare are even close to that of Valve or Riot Games,, companies behind Dota 2 and League of Legends game.