Street Fighter and Rochard free on PlayStation Plus
| December 13th, 2012 |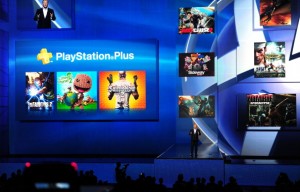 The latest update for Sony's premium PlayStation Network subscription service brings two free games to the table with Super Street Fighter IV: Arcade Edition and Rochard.
The latest update for the PlayStation Plus subscription service sees only two pieces of content both of them are free games.
Sony has been pushing its premium subscription service in the past few months as it looks to increase the number of paid subscribers to its online services. The PlayStation Network is free for everyone but the PlayStation Plus option has only recently picked up Steam and Sony seem to want to build on it.
The European PlayStation Plus announcements are made at the start of the month, with updates released on a weekly basis while the US sees both the announcements and updates release on a weekly basis.
The latest update sees two free games on offer for PlayStation Plus subscribers in the United States. The first game is Super Street Fighter IV: Arcade Edition, which comes with the following description.
"Street Fighter IV was already a bonafide hit when it ushered in a new era of 2D fighters. Take that winning formula, refine and balance one of the best fighting game engines, add four new characters (Yun, Yang, Evil Ryu, and Oni), take part in new online modes and you've got one of the most complete fighting game packages ever. "
That particular game is a full-blown console title while the second game on offer is a PlayStation Network downloadable title. Rochard is described as "A PSN gem, Rochard brings fantastic puzzle-platforming in the form of taking control of astro-miner John Rochard. Though a humble premise it may be, you'll be addicted to the gravity control mechanics of Rochard as you solve environmental puzzles and explore new ways to navigate the wonderful trappings of this galactic platformer."
Seeing how both games are on offer for free and the fact that the update has gone live, it should be worth a look especially with the price.
However, there seems to be a growing rift between US subscribers and Sony as the former are complaining over the content they are receiving and the content being made available to their European counterparts.
With EU subscribers having games such as Just Cause 2, Batman: Arkham City and Deus Ex: Human Revolution to play, US subscribers have to make do with older titles such as BioShock 2 and Resident Evil 5.
This can be seen by the results of the latest poll, which, at last count showed 41% of participants not finding anything they liked while 47% were excited by Street Fighter. Sony will need to up their game and bring something to please the subscribers who are slowly growing restless.
Other People Are Reading