Survey shows mobile gaming market is expanding due to freemium and tablets
| June 21st, 2012 |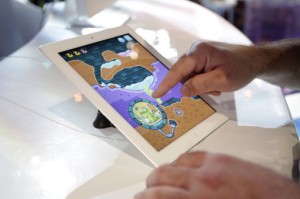 PopCap studios survey is giving the industry an insight into the growth of the mobile games market as well as how tablets are bringing in new players and how freemium could be the future.
PopCap studios rose to fame with its Bejeweled games as well as the quirky yet addictive, Plants vs. Zombies series. It was recently acquired by EA in a deal worth more than an estimated $1.2-billion.
The move was thought to be a risk for EA as they missed out on a number of other developers who seemed more profitable. However, a number of those very same developers are now struggling while PopCap seems to be more stable than most, so it may not have been a bad move after all.
The main motive behind the acquisition of PopCap was so that EA could gain entry into mobile gaming market. It seems that EA and PopCap both wished to do some extensive market research in order to determine where they stood, what consumers wanted and how the industry would change in the future.
The first thing that the survey revealed was that the mobile games market had grown exponentially over the past few years and showed no signs of slowing down. It turns out that "more than 4 in 10 (44%) of adults surveyed had played at least one mobile game in the past month – an increase of 29% compared to just a year ago."
Another interesting statistic brought up was the fact that "Almost half (46%) of all video game time is spent on a mobile device: Phones and computers are the most common game devices (33% and 32% respectively)."
At the same time the survey also showed that a large number of gamers entered the mobile games market not through smartphones but because of games available on their tablets. According to the survey, "12% of all mobile gamers play only on a tablet". That number may not seem significant but the mobile games market has a wider user base than console or PC gaming.
Also, one important aspect of mobile games is the pricing and it turns out that the increase in free games has resulted in an increase in gamers, as the risk associated with purchasing a game that one may or may not like is reduced.
However, once the initial 'free download' was made around 51% of gamers made in-game purchases and went on to purchase new games as well.
Another interesting fact brought up by the survey was the that tablet gamers tend to spend up to 1.5 times as much money on games than their Smartphone counterparts.
Mobile gaming is here to stay and could very well be the future as technology continues to amaze and innovate. It will not be long before the likes of Sony, Nintendo and Microsoft sit up and take notice of the trend.