Take-Two claims to be doing well despite the challenge presented by aging consoles
| November 2nd, 2012 |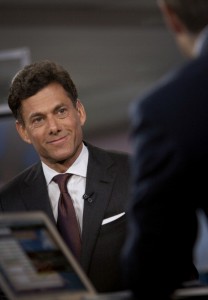 The demand for the next-generation consoles may be growing in the market, consequently having a negative impact on the sales of both the sales of consoles as well as games.
One company, however, claims to be holding its own despite the changing ecosystem and people growing wary of what they are beginning to refer to as old technology.
Take-Two CEO Strauss Zelnick conceded during a post-earning conference call a few days back that it is managing to do well in the market irrespective of the drop in the enthusiasm for the current-generation consoles.
He credited this stability in commercial success to the fact that the company is not wavering from its strategy of focusing on high-quality intellectual properties (IPs) that are strongly in demand.
According him, the demands for the games are not affected by the consoles currently sitting at the tail end of their life-cycle and still hold a great deal of value for the gamers, thus resulting in continuous commercial success.
"It fits very well with our stated strategy, which is we try really hard to do only the highest quality titles; the titles consumers will show up for without regarding to where you are in the hardware cycle," he said. "And that way we can really benefit from a large install base, which we already have, [and] which will grow larger through the holidays."
Zelnick further went on to add that in order to remain on the surface and shield itself from the strong wind that is making it tough for other publishers to hold their own, Take-Two is clear about the necessity of offering "must-have" games in the market.
He said that by keeping their focus on the in-demand titles, the company is successfully holding on to the interest of the gamers and taking away the reason for them to turn towards its competitors for the experience that they desire.
The Grand Theft Auto parent publisher admitted that his company is not immune to the lower title ratios, but the risk is significantly less as compared to its competitors because of its strategy to put out must-have products.
He noted that the day the company stops doing this, it too will find the sales of its product decline due to the rapidly decreasing appeal of the current-generation consoles, while further adding that the entire Take-Two team, including the creative team, is mindful of this.
Take-Take may be doing all it can to garner commercial success during a time when a number of big publishers are struggling to even break-even the development cost of the game, but it seems rather unlikely that its current strategy will continue to work for long as the gamers are getting even more impatient while waiting for the arrival of the high-end technology.