Take-Two expects development costs of games to fall with arrival of next-generation technology
| November 2nd, 2012 |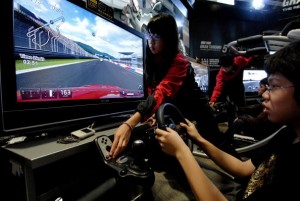 A number of video games industry analysts are of the opinion that developing intellectual properties (IPs) would prove to be both costly and complicated.
Take-Two, however, does not agree with this notion and instead believes the cost of development will fall with the arrival of next-generation hardware.
According to the CEO of the American publisher Strauss Zelnick, the Grand Theft Auto parent company is not expecting the operating expenses to escalate once the high-end consoles make their way into the market and instead expects the process of development to become relatively simpler and financially less taxing.
"We don't have a ramp up of operating expenses for next-generation," Zelnick said. "Do we believe the titles to be a whole lot more expensive to make for next-gen? And the answer is we do not. In many instances we believe that it may be somewhat easier to make titles for next-gen, depending on how the technology comes together."
The technology that the company expects the likes of Sony and Microsoft to introduce in their next-generation consoles is being thought of as complicated and expensive because of it being more powerful.
While this assumption is not without merit, the possibility of the new technology allowing developers to use the resources at their disposal more effectively cannot be completely ruled out and that is exactly what Take-Two seems to be getting at.
It is also being strongly believed that the next-generation hardware would allow a greater degree of freedom to the developers, making it possible for them to show-off their creativity way better than it is possible for them to do using the current technology.
Continuing to express his opinion about the next-generation consoles, Zelnick said that he does not expect Sony and Microsoft to wait too long before making the highly-anticipated announcement regarding their high-end consoles.
He noted that the current trend in the market is making it quite evident that the current-generation consoles are struggling to keep the gamers satisfied and is therefore allowing the newer alternative platforms such as smartphones and tablets to capitalise on the declining popularity of consoles and spreading its wings across a greater part of the market.
"We are very mindful of an upcoming transition and the consumer behavior puts a fine point on that," he said. "Because as we head into the maturation of the cycle, we see tie ratios [games sold per console] come down, and you've seen what happens when that happens."
The gaming industry analysts as well as developers are both convinced that the extended life-cycle of the current-generation consoles is hurting the industry pretty strongly and causing gamers to turn away from the old hardware and towards the more contemporary technology, which includes smartphones and tablets.