Team Azubu fined by Riot Games for unsportsmanlike conduct during League of Legends World Playoff
| October 12th, 2012 |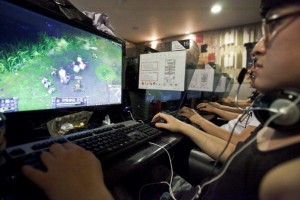 After putting in a lot of effort to make the League of Legends World Playoff at L.A. Live in downtown Los Angeles, America, one of the biggest eSports tournaments ever, the last thing that Riot Games wanted to come across was a display of unsportsmanlike conduct from the participating teams.
After running smoothly for the first two days, i.e. October 5-6, the World Playoffs was plagued by plenty of undesirable incidents on the third day, including the connection issues and cheating allegations.
After investigating the various cheating allegations by looking at the videos, re-examining photos and renders of the stage layout to gain a better understanding of the sight lines between the players, Riot Games reached the conclusion that the only cheating incident that had a considerable amount of effect on the course of the contest was during the third quarter-final between Azubu Frost and TSM.
According to Riot Games' investigation, one of Azubu Frost's team-member, AzF Woong, stole a look at the opposing team's mini-map that was being displayed on the stage screens and shared the information with the rest of his team to modify their gameplay.
This helped the team gain an advantage over their opposition and went on to eventually claim victory.
The VP of Riot Games at eSports Dustin Beck outlined the findings of the investigation on the League of Legends forums, saying that they while there were other incidents of screen looking, there was only one game where it had a tangible impact on the game.
"We evaluated these cases based on intent, severity and tangible impact to the course of the game," Beck said. "Based on our investigation, the Azubu Frost incident is the only one where we determined there to be tangible impact; we believe other members of AzF modified their gameplay based upon the information gained. We don't believe, however, that these actions decided the winner of the game".
Riot Games is penalising Azubu Frost for cheating by fining the team 20 percent of its innings, i.e. $30,000.
The fine will be donated to the company's charity in Korea.
Azubu Frost was not the only team that was found cheating. WE, IG and TSM were also found exhibiting unsportsmanlike conduct, though they only received warnings as their actions had no significant impact on the game.
TPA Stanley was also under investigation because of disobeying the rule of looking straight at the screen at all times, claiming that he had turned his head because of a sudden glare on the screen.
The investigation revealed that all five members of the opposing team were already visible on the team's mini-map at that time, therefore TPA Stanley and his entire team was cleared by Riot Games.
Other People Are Reading