Team Ninja to reveal new title for console at Tokyo Game Show 2012
| September 19th, 2012 |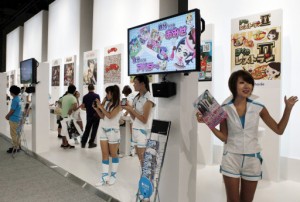 With the Tokyo Game Show 2012 just around the corner, game makers are raising the anxiety among gamers by teasing them with hints of what may be waiting for them during the event that is scheduled to run from Thursday, September 20, and conclude on Sunday, September 23.
Team Ninja is one of the many developers that are ready to overwhelm the attendees of the event as well as thousands of people following the latest industry news through internet by raising the curtain off the latest project that they are working on.
According to an update by the developer on the popular social micro-blogging website Twitter, the studio plans on revealing their latest title for the consoles.
No details have been leaked about the new project by Team Ninja so far, thus keeping the gamers in the dark and making them wait until the upcoming Tokyo Game Show to find out what is headed their way.
The tweet by the company has triggered a number of speculations as to what possible title could Team Ninja have in the pipeline for the console.
Last year, the studio had revealed the development of Dead or Alive 5, while it later announced that the Wii U-version of Ninja Gaiden 3: Razor's Edge is also in the works.
With the studio already working on a Dead or Alive and Ninja Gaiden game, there is only one other popular intellectual property (IP) that seems to be a likely candidate to have a sequel, Metroid: Other M.
It is still too early to say with conviction that the aforementioned franchise would be part of Team Ninja's big revelation during the video game event.
With Nintendo already announcing the release date and price of Wii U for the Japanese region, it is not surprising to see the growing interest of developers in the new technology that is about to be introduced.
Team Ninja seemed to have lost their way with Ninja Blade 3 for the PlayStation 3 and Xbox 360, with fans completely rejecting the changes that had been made to the gameplay. The first two titles in the series had garnered a lot of critical as well as commercial success, building quite a reputation for the brand, but the third title in the series had dealt a strong blow, bringing the studio under a lot of criticism.
The developer would be looking to make amends for the previous blunder by brining a much-improved version of Ninja Blade 3 to the Wii U. It would be interesting to see how the game and console's GamePad work with each other.
It also remains to be seen whether the studio is going to be announcing the game for the next-generation consoles or if it plans on sticking to the existing hardware for now.
Other People Are Reading