Tekken director uncertain of the synergy between Wii U's GamePad and fighting games
| July 12th, 2012 |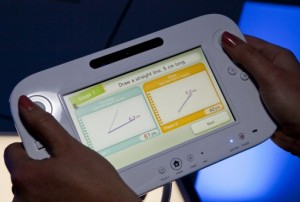 Nintendo Wii U's GamePad may have opened up a whole new world of possibilities for the developers to offer gamers an enhanced and unique experience, but the director of the Tekken franchise Katsuhiro Harada is of the opinion that the controller is not ideal for fighting games.
In an interview with Eurogamer, Harada said that it was indeed a challenge to use the GamePad with fighting games. He contended that looking at both the big as well as small screen is pretty distracting for the players.
When playing fighting games, the gamers hardly have time to blink as the slightest delay in blocking or ducking can result in loss of significant amount of health. This constant state of alertness is difficult to achieve if the player is made to focus at two screens at the same time.
Noticing the lack of synergy between fighting games and the GamePad of Nintendo's upcoming high-definition (HD) console, the Tekken team decided to use the controller in the simplest of manner, allocating a relatively insignificant role to the secondary screen.
"Looking at the small screen and the big screen at the same time is pretty distracting for a fighting game," Harada said. "So we're thinking of making [the GamePad] useful as a way of having shortcuts. Or, by making progressing through the game more convenient. Or by playing alone on the GamePad screen."
Tekken Tag Tournament was originally released on the PlayStation 2 console a number of years back. The game generally received positive reviews, with the fans of the fighting-game genre appreciating the fast-paced action and large fighter roster, which comprised of most of the characters from the first three Tekken games. Though the tag feature, which allowed players to switch between two characters, was not unique, Namco managed to incorporate the feature into their fighting game so well that it served to offer an experience that was arguably unprecedented.
After Harada teased about announcing a new title in the franchise during Tokyo Game Show in 2010, rumours began to circulate regarding Tekken x Street Fighter or Tekken 7. However, it turned out that Namco Bandai was working on a sequel to Tekken Tag Tournament, which was to use a different game engine than Tekken 6.
The arcade version of the game was scheduled to hit Japan in Summer 2011, but the Great East Japan Earthquake compelled the developer to delay the game for a few months before releasing it in Japanese arcades during September 2011.
The PlayStation 3 and Xbox 360 version of Tekken Tag Tournament 2 are expected to hit the shelves in September 2012, while the Wii U version will be released during Winter 2012. According to Harada, the console version of the game will feature exclusive content, which ranges from additional characters to bonus modes.