The Big Entertainment e-sports Show goes live with Counter Strike 1.6 Qualifier One
| July 31st, 2012 |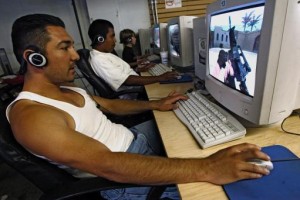 The latest edition of The Big Entertainment e-sports Show, formerly known as the World Game Championship kicked-off with the Ramadan Counter Strike (CS) 1.6 Tournament on Friday, July 27, at Giga Planet Network in Dubai.
The structure of Ramadan CS 1.6 tournament comprises of two qualifying rounds before heading towards the finals. The winners will get to take home a hefty prize money of up to AED 15,000, as well as a bonus Most Valuable Player (MVP) prize.
The first of two qualifiers wrapped up this past weekend, i.e. July 27-28, with hundreds of participants from Middle-East and Gulf region batting it out in intense atmosphere. The matches were nothing short of spectacular, with each round being as nerve-wrecking as the next. The teams had quite apparently come prepared with a lot of primary and back-up strategies to blow-up the bomb-site as terrorists and protect it as counter-terrorists.
With the first round of qualifiers done and dusted, the tournament moves on to the CS 1.6 Qualifier Two, which is scheduled to go down on August 2-3.
Once both the qualifiers are done with, the final showdown between the victorious teams from the first two qualifiers will take place on Friday, August 10. Judging by the level of skills that were showcased this past weekend, the Finals are expected to completely blow everyone away.
While the Ramadan CS 1.6 Tournament is being looked at as one of the most anticipated tournaments in the region, it is also being recognised as one of the largest tournaments of the first-person shooter in terms of both numbers of participants as well as the value of cash awards that are up for grabs.
While 2000 gamers from United Arab Emirates (UAE) and the Gulf Region had registered for the tournament last year, the figure have shown a significant increase this year as over 21 teams from Kuwait, Saudi Arabia, Jordan, UAE and Iran will also be competing for top honours.
Commenting on the fifth edition of The Big Entertainment e-sports Show, the Managing Director of Index Conferences and Exhibitions Organisation Est. Tariq Al Madani said, "We are very excited about the 2012 season; we have also witnessed the tremendous growth of the competitive gaming community where very few tournaments were taking place around the region. This community has evolved over the past 48 months into a dynamic and energy filled network of gamers and video games became an integral part of our lives and it is no longer associated with a specific age group and we are proud to be servicing this ever growing sector."
The highly anticipated video game event will also feature a League of Legends tournament, which is scheduled to go down from August 31 to September 1.
Other People Are Reading