The Flood returns in Halo 4
| September 29th, 2012 |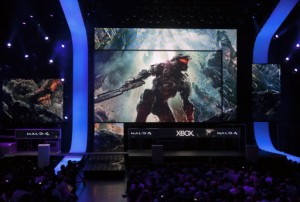 But no need to rage out as Master Chief enemies of old will only feature in the game's multiplayer component, which is aptly named the 'Flood'.
343 Industries was appointed the daunting task of bringing Bungie's iconic series back to life. The former developer created what was arguably the most well-known first-person shooter trilogy of its time. The game was first released on PCs to critical acclaim before it made the Xbox and Xbox 360 its home.
Each new iteration of the game managed to break sales records set by the previous instalment and even went on to set a world record in the entertainment product category. However, after release four games, Halo, Halo 2, Halo 3, Halo: Reach and one expansion, Halo Orbital Drop Ship Troopers or ODST, Bungie decided to retire the series and move on.
Cue Microsoft and their need for exclusive titles on their console, as the publisher employed 343 Industries to bring the series back to life for another three installments, much to the eager yet nervous anticipation of fans of the series.
Many fans would have been wondering what 343 would be retaining from the original trilogy and it turns out that the developers are taking the series in a new direction. However, the Flood do make a return in Halo 4 as they feature in a multiplayer mode by the same title.
The mode sees ten players battle it out as they look to avoid becoming infected. The match starts off with two of the ten players infected and their goal is to infect all the other players on the pitch, while the uninfected have to prevent that from happening.
As for who Master Chief will be fighting this time around, 343 Industries has come up with a new line of bad guys, or rather bad aliens, for the iconic Spartan to take on. The Promethean boast advanced technology and some serious firepower as well as enhanced AI.
Whether or not players take to the Prometheans as much as they did the Covenant or the Flood remains to be seen, but one has to appreciate the developer's willingness to expand on the universe rather than regurgitate everything Bungie had created in the world.
Halo 4 is set for release right at the heart of the hectic holiday season and is set to go head to head with Call of Duty: Black Ops 2 and Assassin's Creed 3 among a host of other games. Whether or not it can steal some of Black Ops 2's thunder remains to be seen but fans of the series are lapping up everything that the developer is offering them and one can rest assured that when Halo 4 is released there will a fair amount of attention given to it.