The Last of Us hitting stores in May
| December 11th, 2012 |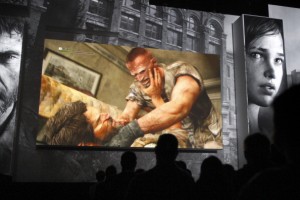 Naughty Dog has revealed that their post-apocalyptic third-person survival adventure PlayStation 3 exclusive will be releasing on the 7th of May 2013.
The Spike Video Game Awards are great for a number of things; for starters there are a number of awards being handed out to worthy games for all various categories. Secondly, there are a number of reveal trailers as well, with Dark Souls 2 an example, and lastly, there's an opportunity for the developers to make the odd announcement about their games.
One such developer was Naughty Dog, which gave everyone else another peek at the eagerly anticipated title. The studio is the same responsible for making the Uncharted series, which remains one of the current generation's most successful games.
The studio blew everyone away with the reveal trailer earlier on in the year at E3. The expo, which is held every year at Los Angeles, is where all the major publishers, manufacturers and developers announce their upcoming games and technology and the Sony conference had The Last of Us at its highlight.
The game was a grittier, more visceral experience as opposed to Uncharted lightly humoured take. However, by the time the trailer ended everyone was completely blown away as the only thing they had seen before this was a brief teaser trailer.
Samuel L. Jackson who many know as the person who hates snakes on planes and THAT dialogue in Pulp Fiction, was on stage to reveal the nominees for the best character in a video game before pausing to talk about a fungal epidemic, passing things on to the composer of the game and finally to the trailer that everyone was looking forward to.
The trailer added a lot more background to the story, gave everyone a deeper look in the world and introduced a number of different dynamics and plot elements. The entirety of the footage shown was in-game with nothing pre-rendered.
It may not have been as engrossing as the E3 reveal demo, but it still hit the mark. However, the most notable element of the trailer was the end which read 7th May 2013. The game has a release date and its not the February-March release date many were speculating as it seems Sony is looking to ensure minimal competition for the game during its release.
With no other title scheduled for the same month, it seems that Sony may very well be looking at a potential masterstroke in terms of release date.
At the same time, it should also be noted that the game is released just under a week after payday, which would make it one of the first things on everyone's shopping lists.
But will you be picking up a copy of the game? Let us know in the comments section below.