The Mass Effect trilogy and Far Cry 3 hit the PlayStation Network
| December 6th, 2012 |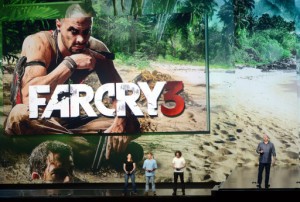 The latest update will see a number of game hit Sony's online distribution platform including the first stand-alone Mass Effect title from BioWare.
Sony continues to build its library of games on offer via the PlayStation Network and PlayStation Store by bringing a host of titles on to the platform with the latest update. However, the most notable have to be EA's and Ubisoft's.
Far Cry 3 has been hailed a triumph by many in the industry, whether it be fans or critics, the game seems to have struck a chord with anyone who jumps into the crazy world it has created for itself. Whether its fighting drug dealers, smugglers, wild animals or insane bosses, it seems that the game has found the winning combination for the series and Ubisoft's increased focus on the IP has paid off.
Sony also seem to want to jump of the bandwagon and although the game was not a day-one release on the PlayStation Store, it has finally made its way on to it.
The description for the game reads:
"Beyond the limits of civilization lies an island, a lawless place ruled by piracy and human misery where you only escapes are drugs or the muzzle of a gun. This is where you find yourself trapped in a place that's forgotten right from wrong, a place that lives by the principles of violence."
Think Grand Theft Auto except on a beautiful island, in first-person view and with some of the most insane characters ever to be introduced in a game. It sounds like a winning formula there and then.
However, at the same time Sony is offering up some slightly recycled as well as the Mass Effect Trilogy is also on offer at the PlayStation Store. The bundle includes all three game Mass Effect games, including the first part which never made its way on to the PlayStation 3 until now.
For those who are not familiar with the series maybe a bit of a description will help:
"Experience all three award-winning Mass Effect titles with the Mass Effect trilogy. This action-packed RPG saga follows the rise of Commander Shepard from Alliance Marine to becoming the galaxy's most elite soldier – the only soldier who can lean an all-out galactic war against an ancient alien race known as the Reapers."
At the same time, Mass Effect 1 will also be available as a stand-alone download as well. Those who do not wish to buy all three games and just wish to experience the first can do so if they please.
So which games will you be picking up? Far Cry 3, the Mass Effect trilogy or the stand alone Mass Effect game? Let us know in the comments section below.
Other People Are Reading