The Nintendo Wii U knocks the 3DS off the top spot
| December 18th, 2012 |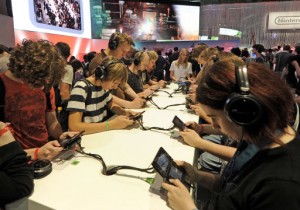 Japan: the Wii U ends its portable cousin's dominance at the top of the hardware sales charts in the region, but it sells fewer units than the PlayStation Vita's launch.
Nintendo is currently the only manufacturer to have released a next generation console with no news about what Sony and Microsoft are up to apart from the fact that their respective consoles are in development.
With virtually next to no competition for the Wii U it came as no surprise that the dual-screen supporting console made its debut at number one in the charts. The console managed to sell a total of 308,142 units on its launch, which is not only lower than the number it sold in North America and the United Kingdom, but also happens to be less than the PlayStation Vita managed to sell during its launch period.
However, it is interesting to note that none of the Wii U's launch titles managed to finish in top spot in the software sales charts, which will come as a surprise to Nintendo.
Nintendo will not be too concerned though, as the console is not that far behind the Wii's launch and also because of the fact that the second best-selling platform in the charts is the Nintendo 3DS. The console has spent its first off the top spot in the charts for a considerable number of time, despite seeing an increase in sales from the previous week. The 3DS managed to sell a total of 211,499 units.
In third place, also dropping down one spot, is Sony's PlayStation 3 console which saw a spike in sales following the release of Yakuza 5. The game currently tops the software sales charts and that helped in seeing the PlayStation 3's sales jump from 29,809 to 36,994 units sold.
In fourth place is the PlayStation Portable, which saw its sales rise by just under 4,000 units to 19,637 units. The console was deemed a failure at the start but it's consistent sales have resulted in many changing that particular opinion.
Rounding up the top five is Sony's latest portable console, the PlayStation Vita, which managed to gain some consistency as it stayed in the five-figure region with a total of 11,039 units sold in the previous week. Sony will be hoping that the console sees an increase in sales over the course of the next few months but the company will also understand the need for a console-defining title to really help boost sales.
But what about the readers; have you purchased a console in the past few weeks? If yes, then which one and if no, then are you planning to spend of your hard earned money on a new system? Let us know in the comments section below.
Other People Are Reading