The PlayStation Vita – A Noob's Guide – Part 2
| July 10th, 2012 |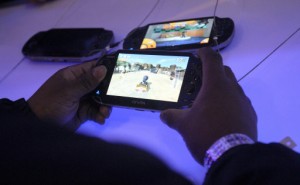 After signing up for the PlayStation Network and configuring a number of settings based on the users preference, it is time now to head on over to the PlayStation Store and see what free games are on offer.
Background Download:
*Note: the amount of content that can be saved depends on the capacity of the memory stick the user has purchased.
One of the advantages of the PlayStation Network and the Store is that there is a fair selection of free content available for users.
The best thing to do, in order to unlock the full potential of the console would be to head on over to the Social apps section of the store and download pretty much everything.
This includes applications for YouTube, Twitter, Facebook, FourSquare, Skype and Flickr, all optimised for the PlayStation Vita.
Once these have been queued up, one can proceed to the games section of the PlayStation Store where they will find an impressive line-up of free as well as premium content.
One of the games wishfree.com would recommend, just to get started on, is Cliff Diving. The game may not have the depth and triple-A feel to it but it does a decent job of demonstrating the AR feature of the PlayStation Vita, more on that later on.
Once all the content has been downloaded it is best to run each application and sign-in or create accounts, if the user does not have one already, before proceeding.
By this point in time the user should have his PlayStation Network account all set up and running along with all the applications for social networking and showing off the fact that he or she owns a PlayStation Vita.
An important tip here would be to learn how to take screenshots. Yes, the PlayStation Vita also has a screenshot feature that will allow users to share whatever is on their screen with the world.
Pressing the 'PS' button at the same time as the 'Start' button will trigger a screenshot. The screenshot itself can then be accessed in the Photo's section of the Home Screen, from where it can be uploaded and shared.
Apart from Cliff Diving there are plenty of other games and applications that may be appeal to different users although most of them will not be for free. However, if the user does want additional content then titles such as Escape Plan and Sound Blocks are two titles worth a free trial at the very least.
In fact, nearly every game has a free trial that users can download and it would be best to give the titles a try before going in for the full download.
Disclaimer: the views and opinions expressed in this article are the writer's own and do not express the editorial policy of wishfree.com