The PlayStation Vita does not need a "relook" only better content – Sony executive
| June 28th, 2012 |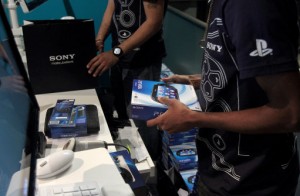 Any hopes of a price cut for the Vita seem to be dampened as Sony continue to insist that content not the price of the console is the main driving force behind sales.
The PlayStation Vita has been struggling terms of sales since its launch, especially in Japan where it trailed the PlayStation Portable. However, it has made a comeback in recent weeks following the release of a number of titles for the console, with sales figures almost tripling in the previous week.
Many analysts are of the opinion that the best way for Sony to increase demand for its second generation portable gaming console is by slashing prices, similar to what Nintendo did following their poor start when they launched the 3DS.
Nintendo not only cut the console's price by a third but also reforecast its sales for the 3DS as well, as the company looked to get back on track and that is exactly what they have done. The 3DS has been the best-selling console in Japan for almost 6 months now with no other console coming close to challenging its dominance.
Many expect Sony would have done something similar but the consumer electronics giant believes that the pricing of the console is not the issue that needs to be addressed. Numerous Sony executives pointed out that in terms of value for money, the PlayStation Vita is extremely attractive, with no other console able to match its capabilities.
However, a lack of software and content for the console has meant that there is little interest from core gamers and Sony seem to agree to this school of thought.
Andrew House, the CEO of Sony Computer Entertainment, said, "I don't think there has been a need for a re-look." Before continuing, "We are in what is a very competitive space."
So that, once again, put to rest any chance of a price drop. However, House did concede that the company needed to focus more on delivering better content. He said, "I think we need to put more emphasis on the kinds of experiences that define and differentiate Vita. That is always going to be one of its objectives. But there needs to be a reinforcement on that."
The PlayStation Vita saw a spike in sales in the United States following the release of Mortal Kombat and Resistance: Burning Skies. The publisher also announced that Call of Duty: Black Ops: Declassified and Assassin's Creed: Liberation would be heading to the console during the Holiday season meaning that gamers finally have two of the biggest franchises in gaming to look forward to on the console.
House also mentioned how Sony were focused on focusing on their new business model for their console and how demand for digital content was growing.
Other People Are Reading