The PlayStation Vita's must have games list
| October 29th, 2012 |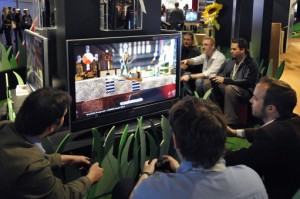 Part 6: Wishfree.com goes through the Vita's roster of titles and pick out the five games that you absolutely must own in order to extract the maximum gaming pleasure that the console has to offer.
Discussing titles unique to the PlayStation Vita is one thing, however, that does not mean that popular franchises have not made an impact on the console. One title, which is easily the best experience on the PlayStation Vita, has to be LittleBigPlanet.
Although the Vita version was not developed by Media Molecule, the creators of the series, it still manages to retain and translate that feeling of being part of something truly magical on to the portable console.
From the moment Stephen Fry introduces players to the world where the only limits to what one can do is defined by their imagination, the game turns the charm on and does not let up until, well, it does not let up.
Sackboy is one of the most loved characters in the video game world, not just by fans of platformers and casual games but also core gamers as well. The ability of the game to cater to and have something for every gamer to enjoy is LittleBigPlanet's biggest strength.
The campaign or rather the single-player mode is a delight but the real joy comes from playing with another person. Dancing, pulling and slapping each other through each level is an absolute gem of an experience, especially if your co-op partner isn't taking the game too seriously.
LittleBigPlanet's greatest strength is in its community and how the game is virtually self-sufficient in terms of providing fresh content. The only DLC Media Molecule offer are costumes to outfit one's Sackboys and Sackgirls with as the community themselves design new levels for their fellow players to play through.
In fact, the creation tools are a part of the whole package and anyone can create any level they please and share it online for other players to download and play. The creation is not just limited to levels, but new games can also be created using the tools, which makes this one of the deepest titles on offer in terms of content.
LittleBigPlanet and LittleBigPlanet 2 both defined the PlayStation 3 console as a gaming system that had something for everyone and LittleBigPlanet on the Vita does the exact same thing for the portable console.
If the reader is only going to buy one game for his Vita then he or she needs to make sure that it's LittleBigPlanet. We guarantee that you will not be disappointed.
Disclaimer: the views and opinions expressed in this article are the writer's own and do not reflect the editorial policy of Wishfree.com in any way.
Other People Are Reading