The Toyota Prius is the focus of the latest Gran Turismo 5 update
| November 8th, 2012 |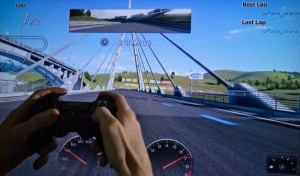 Kaz Yamauchi, the founder of PolyPhony Digital and the creator of the Gran Turismo series, recently took to Twitter to highlight the changes set to make their way to the racing simulation title.
Gran Turismo 5 is nearing its second birthday, or rather anniversary, and the game's developer, Polyphony Digital is supporting the game with regular updates and content to keep fans of the series engaged in the deep, immersive racing sim.
Released in 2010, the game received mixed reviews from critics who felt that the end product did not justify its lengthy development cycle and it felt unfinished, incomplete and without the final layer of polish. However, since then Polyphony Digital has released a plethora of updates that have added those to finally have a finished product that gamers cannot seem to get enough of.
In fact, the game ranked in the top eight best-selling games in Europe for 2012, quite a feat considering its almost two years old.
However, that has not stopped the development team, who have confirmed they are working on Gran Turismo 6 and have teased the possibility of a GT game for the PlayStation Vita, from constantly tweaking the PlayStation 3 title.
The latest update, 2.09, will change a number of gameplay elements including the Tyre and Fuel Depletion settings for online races. At the same time the dev team has also improved the 3D Display that the game features as well as the tyre depletion rate for various vehicles to be more realistic.
The scoring method for the Drift Trials has also seen a change that will discount any cheating that was used when the previous method was used and finally the "maximum RPM of the Honda weider HSV-010 (SUPER GT) '11 has been limited to a more modest 10300rpm. The sound has also been updated to go with the change.
At the same time a number of issues that had been raised by the community have also been addressed; starting off with the issue where "opponent cars were hitting the pit entrance wall when pitting in at the Twin Ring Motegi Road Course East."
Also any issues players may have had with any of the Toyota Prius models have been rectified while the online control characteristics now no longer differ from the offline ones, allowing for a more seamless transition in the game's online play.
It is impressive if one looks at how much Polyphony Digital have put into the game over the past few years, but one has to wonder why a number of those changes could not have been made before the game was released.
The next instalment in the series has a lot to live up to and one can only hope that the game speeds off the starting line and keeps going without the need for regular pit stops.
Other People Are Reading