The Unfinished Swan and Payday hit PlayStation Plus
| October 16th, 2012 |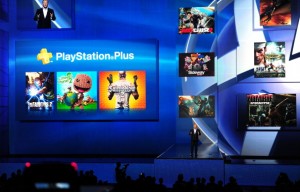 Sony is offering premium subscribers to the PlayStation Network service, also known as PlayStation Plus members, early access to The Unfinished Swan and has added Payday: The Heist to the Instant Game Collection, which means it's free.
The latest PlayStation Plus update brings a number of enticing offers for subscribers including a Halloween Sale with discounts on a number of titles, as well as the closed beta for PlayStation All-Stars Battle Royale.
However, we will be talking about the latest game to have been added on the Instant Games Collection, which basically means subscribers can download it for free.
Payday: The Heist was built on an interesting concept of working together to rob a bank, train, etc with the four players either sharing the spoils, or one of them even possibly stealing from his partners and making a run for it.
It added a nice level of tension and mistrust that not many other games have been able to replicate and although it did not go on to make it big, it did enough to garner quite a following. As it turns out, Payday: The Heist, is now free to download and play for PlayStation Plus subscribers.
The description of the game reads:
"Dive full force into six heists of co-op madness, fighting off cops, stealing large sums of money and embarking on the ultimate high-intensity, first-person shooter adventure." Before continuing, "You can play all the 'heists' solo if you like, or team up with friends on your friends list, or get your matchmaking on and work together as a group to pull off the crime."
At the same time, PlayStation Plus subscribers will also be able to get their hands on The Unfinished Swan before everyone else. The eagerly anticipated, critically acclaimed PlayStation Network exclusive "is a first-person painting game that begins in a totally white space; but as you throw globs of paint to explore the world, you'll discover that the surreal, unfinished world that you inhabit is more than meets the eye."
Sony added, "Plus members will get to be the first to discuss what this game is all about with the gaming community."
The rest of the PlayStation users will get the game on the 23rd, while PlayStation Plus members can brag about how awesome the game is till then.
Sony is throwing considerable weight behind the Plus initiative and although some subscribers are disappointed with the free games being rather dated, many others seem more than happy not looking the gift horse in the mouth.
However, this was just one part of the PlayStation Plus update as Sony had much more to offer including the beta of the upcoming party game that could bring a whole new audience to the console. 
Other People Are Reading