The Walking Dead finale tops the PlayStation Charts
| December 11th, 2012 |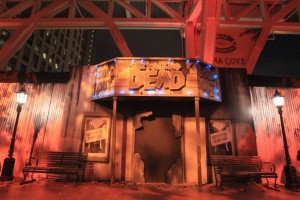 United States: No, not the AMC's television, but rather the fifth instalment of Telltale's interactive story, debuts at number one in the charts for the month of November.
Sony has just released the download charts for the month of November, which shows which game was purchased and downloaded the most and as it turns out Zombies and the lengths people have to go through amidst them is still quite popular.
The Walking Dead – Episode 5: No Time Left tops the November PlayStation Network charts and was recently awarded the series was recently awarded the accolade of being Spike's Game of the Year at the Video Game Awards. The fifth episode is the epic conclusion of the first season. The game saw players cast in the role of a survivor, which each decision that he makes becoming part of the overall story arc.
In second place is Ubisoft's fastest selling game of all time, Assassin's Creed 3. The latest instalment in the series see players take on the role of Connor, an assassin who fought the Templars during the time of the American Revolution. The game has been hailed as one of the best in the series so far and players may once again see Connor return in the next iteration, although that is up for speculation at the moment.
It seems that Sonic Adventure 2 is providing a bit of the same experience that made its early iterations such a cult classic. The latest instalment in the series is the PlayStation Network's third most downloaded game for the month of November.
Okami HD is November's fourth most downloaded game as fans of the series as well as new players are discovering the joys of one of the gaming world's most revered titles.
PlayStation All-Stars Battle Royale may not have sold in the millions as Sony would have liked but it did well enough to land in fifth place of the charts and one can expect it to remain in pretty much the same place when the December charts are released.
In sixth place is the critically acclaimed and much loved sequel to the original Portal game, Portal 2.
Another title from Telltale Games, The Walking Dead – Episode 4: Around Every Corner finds itself in sixth place with the third and first episodes in the series in 10th and 11th place respectively.
However, in eighth and ninth place respectively are Need for Speed Most Wanted and Tokyo Jungle respectively in what has been an interesting month of sales, or rather downloads for the PlayStation brand.
What will the crucial December period hold? Well, only time will tell and Wishfree.com will bring you everything you need to know about the top ten games in the charts and what one can expect when the charts come around next time.
Other People Are Reading