The Walking Dead Season Finale dated!
| November 15th, 2012 |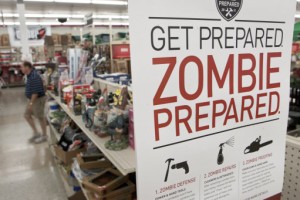 It all ends on with the epic conclusion on the 21st of November, and no, this is not in relation to AMC's television series.
Telltale Games have ushered in a new genre into the world of mainstream gaming. Although interactive storytelling has been around for some time, with Quantic Dream releasing Heavy Rain on the PlayStation 3, none of the previous games had the same level of ambition of scope as The Walking Dead.
The game is released episodically, with four episodes of a total of five already available for download and play via the PlayStation Store. Each episode has topped the PlayStation Network download charts whenever it has been released and the latest episode, Episode 4, was the best-selling title on the PlayStation Network for the month of October.
Telltale's game is not based on AMC's hugely successful television series and is inspired more by the graphic novels than anything else. Even then the writers at Telltale have added their own fiction and created their own story in the universe and world laid down in the graphic novel.
A side story to the main events, the game follows the story of the protagonist and a young girl he finds early on and their story of survival. Players will meet various other characters throughout the game and group up with survivors.
However, what sets the game apart from others is the decision making, with each decision having repercussions later on. It's best not to go into too many details as the risk of spoiling the game for those who have yet experienced it would be considerable.
The game can also be played using Sony's motion controller, the PlayStation Move, and it adds a nice extra layer of immersion to the overall experience.
Yet many who have played all four episodes are now waiting anxiously for the season finale, which has been scheduled for release on the PlayStation Network for the 21st of November, or in just under a week.
The developer released the following statement following the announcement, "We can't thank you all enough for your incredible support and we can't wait for you all to experience the season finale of YOUR Walking Dead story."
The statement continued, "With one week left until launch worldwide, now is a great time for you and your friends to catch up on the series so you can all experience the season finale and discuss it together."
Activision is also set to cash in on the recent zombie craze as they are rumoured to be developing a survival horror first-person shooter based on the story of Daryl and Merle, the two brothers from the television series.
That game is a long way off though as many gamers wait for the fifth episode in Telltale's genre defining entry.