The Wii U has voice chat complications
| October 22nd, 2012 |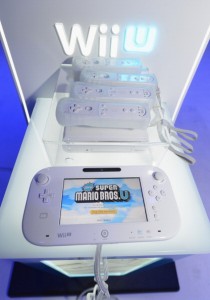 Only specific games with support the in-game voice chat feature and Nintendo will be relying on third-party manufacturers to cater to the head set needs.
Nintendo has hit yet another snag in its attempt to appeal to the core gamer as the manufacturer has confirmed that their latest console will not support voice chat on its own and the feature will only be implemented by developers who wish to do so. At the same time, there are no plans for releasing an official Nintendo Wii U headset either.
In another twist, it turns out that the Wii U GamePad's in-built mic and speakers also lack the capability to accommodate voice chat as well, meaning that gamers who wish to available the feature will need to purchase a third-party accessory.
However, at least the GamePad does have a socket to plug in the third-party headset but things get even more bizarre when it comes to the Pro Controller. The concept behind the design on this particular was to attract the core gamers. It doesn't take a rocket scientist to know that what Nintendo was really targeting was the segment of gamers that play shooters.
Seeing how a majority of players who play shooters also have and use their headsets it's baffling that the Pro controller does not support or have any feature to plug in the third party headsets.
Kotaku was kind enough to summarise all the voice chat, or lack thereof, features of the Wii U. firstly, there will be "no universal support for in-game voice chat". At the same time, discretion to implement the voice-chat feature would be dependent on the developer.
Thirdly, the GamePad's mic cannot be used to support voice chat. Also, the Wii U will only cater to wired headsets with no plans of a wireless option in place at the moment.
There are those that believe this strategy will help Nintendo maintain a bit of its own identity rather than becoming just another console. However, if the plan really was to attract the core gamer then in that case, Nintendo may be taking a big risk here.
The Wii U Is set for release next month in both the United States and Europe with prices beginning at $299.99 and going as high as $349.99. a ZombiU bundle has also been announced which throws in every official accessory as well as a copy of ZombiU into one package as well.
Whether or not Nintendo change their minds about voice chat later on remains to be seen as suddenly everyone realises how just much they took the feature for granted on other consoles.
But will this news put you off from buying a Wii U or was voice chat low on your list of priorities? Let us know in the comments section below.