THQ offering its best games for a little over free
| December 5th, 2012 |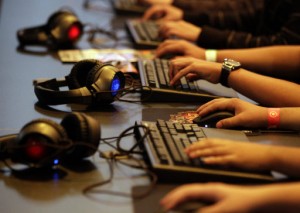 The Humble Bundle on Steam will see the likes of Darksiders, Red Faction: Armageddon and Company of Heroes offered for $1, with anything extra being donated to charity.
In the first move of its kind, the flailing publisher is looking to get some good karma or rather get in Santa Clause's good books as it is planning to sell its best titles for $1 each, with consumers able to pay above that amount if they chose to do so. Any extra revenue will be donated to charity.
For those who do not know, THQ has brought a number of iconic games and IPs to households over the past few years. Their most notable work has been on the WWE, Darksiders and Saints Row games. In fact, Darksiders did not only receive praise from both critics and gamers, but it also did enough on the sales front to warrant a sequel.
The company should have been bankrupt by now had it not been for the success of Saints Row: The Third. A game that makes no effort to be taken seriously but delivers on the outrageous front with flying colours, Saints Row: The Third was THQ's saviour, as was Darksiders 2.
The financial difficulties being faced by the company have resulted in a number of executives resigning, or rather jumping ship. Yet, a year on and THQ continues to exist and struggle for its very survival.
With hope dwindling, THQ seem to be adopting a very different approach from one that other publishers would have had they been in the same position. It is offering its best games to users for a single dollar.
As part of the newly announced, Humble Bundle, members of Valve's digital distribution platform, Steam, can download Company of Heroes, Metro 2033, Red Faction: Armageddon and Darksiders for $1 each. However, at the same time, consumers are encouraged to pay extra as every extra dollar from the sale will be donated to charity.
John Graham made the following announcement, putting to rest any fears that this was a sort of last hurrah or good deed from the company before they went under. He said:
"We are hopefully going to raise a huge amount of money for charity and expose a ton of new customers to the Humble Bundle…this promotion will help us continue to do so. We are humbly hopeful that our customers will see this as a good thing instead of a permanent departure from what we have done and will continue to do."
So far, one can expect Santa to have THQ in his good books and who knows, it may just turn out to be a very Merry Christmas for the publisher as well as the charities where the proceeds will be donated.
Other People Are Reading