THQ Vice President Teri Manby resigns for unknown reasons
| June 24th, 2012 |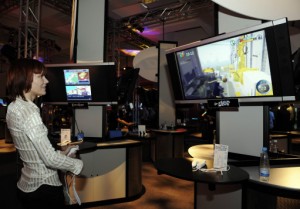 THQ finds another of its senior executives calling it a day, this time the company vice president, corporate controller and chief accounting officer Teri Manby handing in her resignation.
The announcement about the latest resignation was made by the beleaguered publisher in a Securities and Exchange Commission document that was released to public this week.
While Manby officially stepped down from her post on June 14, she will continue to work with the publisher until July 6 to carry out the training of her successor Rose Cunningham.
The new vice president and corporate controller has been part of THQ since the past seven years and was serving as the senior director of financial reporting before getting promoted to her new post.
The Securities and Exchange Commission document further revealed that THQ's chief financial officer Paul Pucino is going to fill in the chief accounting officer position that was left vacant after Manby's resignation.
The former vice president, corporate controller and chief account officer had been working with THQ since 2008. The publisher has neither cited any clear reason for her abrupt resignation, nor revealed what her next destination may be.
Things have been quite tough at THQ of late. The publisher had to take a difficult decision of laying-off more than a hundred employees and entire studios due to poor financials.
THQ is also struggling to rebuild its reputation in the stock market following a poor response to its u-Draw Game Tablet. Other strategic missteps continued to add to the woes of the company, leading to the loss of shareholder's faith in the publisher.
In an announcement made by the company not too long ago, it was revealed that the executive vice president of Core Games Danny Bilson had called it a day to dedicate his time and energy to other interests.
THQ has taken another risky strategic decision by announcing the cancellation of the much-anticipated Enter The Dominatrix, the first-ever standalone expansion pack for Saints Row: The Third that had been announced a couple of months back and was slated for release in autumn. The expansion pack was scrapped to integrate the content into the fourth title in the franchise, which is expected to hit the shelves in 2013.
The cancellation of Enter The Dominatrix will result in a decrease of net sales this year, which means taking a hit of around $20 million in the current financial year. This news has not gone down well with the shareholders, with the company's share price beginning to show a significant decline in the stock-market already.
Things have been rocky for THQ for quite some time now. Bringing in a new president Jason Rubin, co-founder of Naughty Dogs, last month, the publisher would definitely been hoping for a change in fate.