Three Zombie games to keep an eye on
| December 31st, 2012 |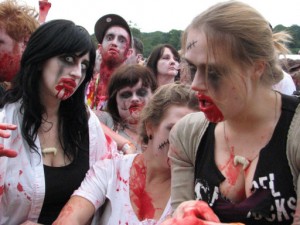 Dead Island Riptide, Day Z and The War Z are three games that should keep fans of the zombie game genre interested.
Many are of the opinion that zombies have been done to death, especially with the games that have come out in the past year or so with Dead Island, Dead Rising and Call of Duty: Black Ops setting up a platform for future games that had a thing for the undead. Throw in the AMC's hit show, the Walking Dead, and one can understand why so many game developers are riding the zombie wave.
Starting things off with a game that was announced recently and only yesterday had its first trailer released.
Dead Island: Riptide
Developed by Deep Silver, the same team that brought the original Dead Island to consoles and PCs, is back at the helm of the next island paradise turned zombie infested nightmare as Riptide is set to continue the story of the first game, albeit not directly.
The background to the game, released by Deep Silver, reads: "Furious monsoon rainstorms have laid waste to the island of Palanai in the Banoi archipelago, waters have risen and caused a flood disaster – because of this and the raging zombie invasion, a rescue mission for the survivors seems to be without prospect of success. All hope seems to have been lost for the surviving humans."
The game's reveal trailer, also in CGI, is not as controversially brilliant as the first but it still does a good job of connecting the player with the characters on screen and their struggle with the undead.
Dead Island was by no means a perfect game and it will be interesting to see whether or not the game's developers have evolved and are ready to deliver a more polished title this time around. The game also introduces a new character and a more refined physics engine.
Day Z and the War Z
Both games are for the PC, however, there are a number of differences between the two titles despite sharing a fairly similar name. Day Z is basically a mod of Half-Life 2 in which players attempt to survive in a post-apocalyptic world infested with the undead and other humans as well. The other players (humans) can choose to be allies or kill other players in order to take their supplies.
The War Z is more of fully developed title based on the free-to-play model and follows the concept laid down by the Day Z game. However, the game has faced a number of issues since its release and has been pulled off Steam as a result.
Disclaimer: the views and opinions expressed in this article are the writer's own and do not reflect the editorial policy of wishfree.com in any way.